Don't be surprised if every other post on here is a haul post; I officially have less than a month left in NYC and I seem to be coping by shopping in my favourite haunts. I can already tell I'm going to be heartbroken when I leave Williamsburg with my five overweight suitcases (estimation), but hold your horses; I still have weeks left here which is more than most. I have a list that mainly consists of eating/shopping/museums and I plan to take an insane amount of photos to show you how I'm spending the last twenty-something days.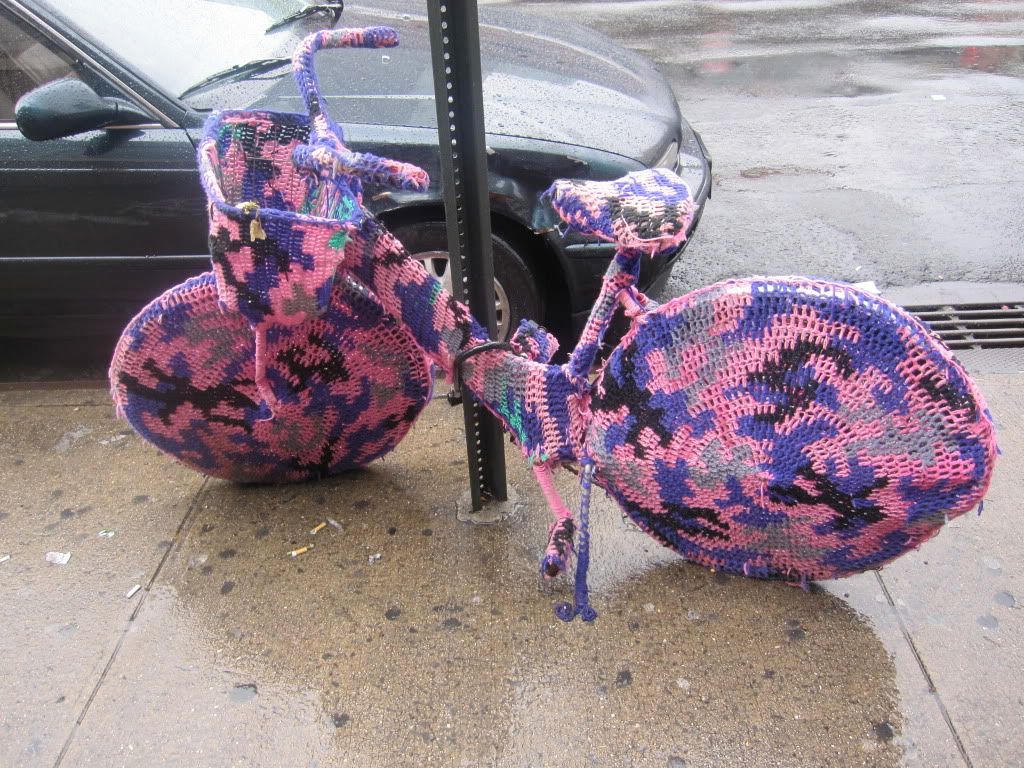 New York, New York; where else can you find a crochet covered bicycle left in the rain?
Now onto the purchases; I had a free afternoon and a friend in town, so decided to show her the best of Brooklyn in a four hour time window. After a crazy amount of lunch, we stumbled into
Beacon's Closet,
where you never really know what you're going to get (or who you're going to see, pretty sure I was in the presence of models, fresh from the Resort runways). People cash their wardrobes in (after the scrutinisation by the staff for seasonality) and what with New Yorkers being a diverse bunch, you get a nice mixture of High Street, Designer and Vintage. I even spotted some Primark in the midst and my first find is an example of items hotfooting it across the globe; a boxy shirt by the Swedish brand
Weekday
. Methinks that some well-travelled and seriously generous person donated it, to allow me the change to indulge my love for Nordic chic. This is desperate to be chucked over a body-con dress.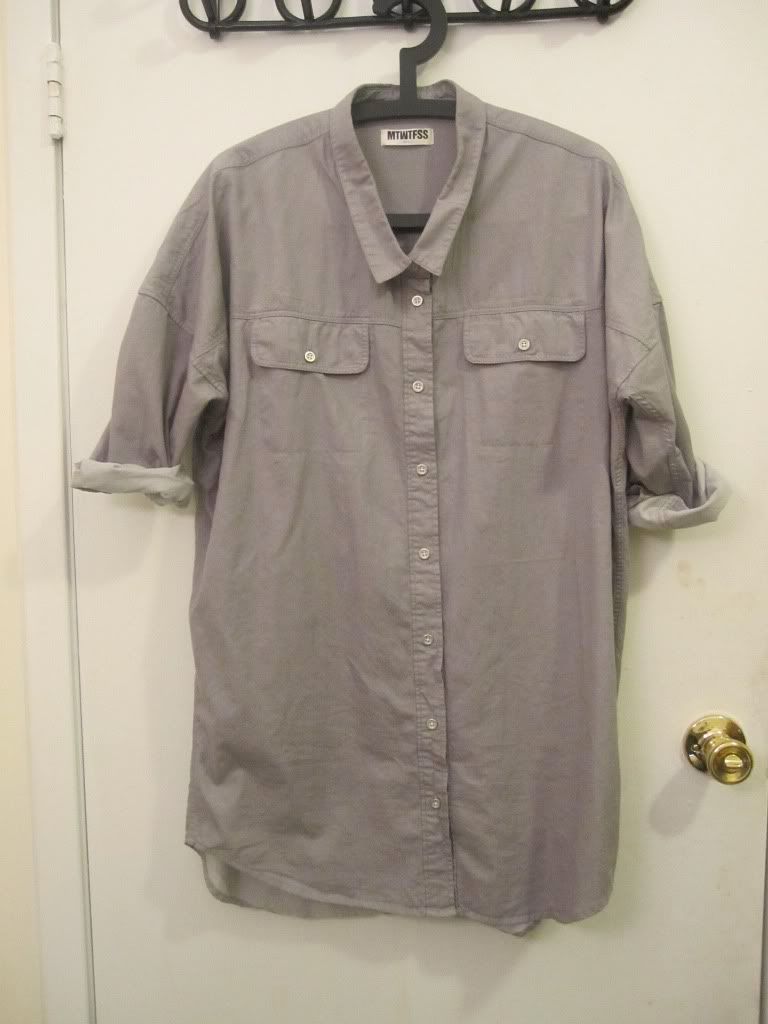 It's rather big, maybe it belonged to a man but I don't really care...
The next purchase were some full shorts, hastily picked up to try on with another item I ended up ditching. Although I will probably belt them at the waist and tuck tops in for an easy option, I'm probably more a fan of the drop waist silhouette and will pair them with baggy jumpers come Winter.
Damn that left on Ikea sticker, ruins the illusion of a clutter-free life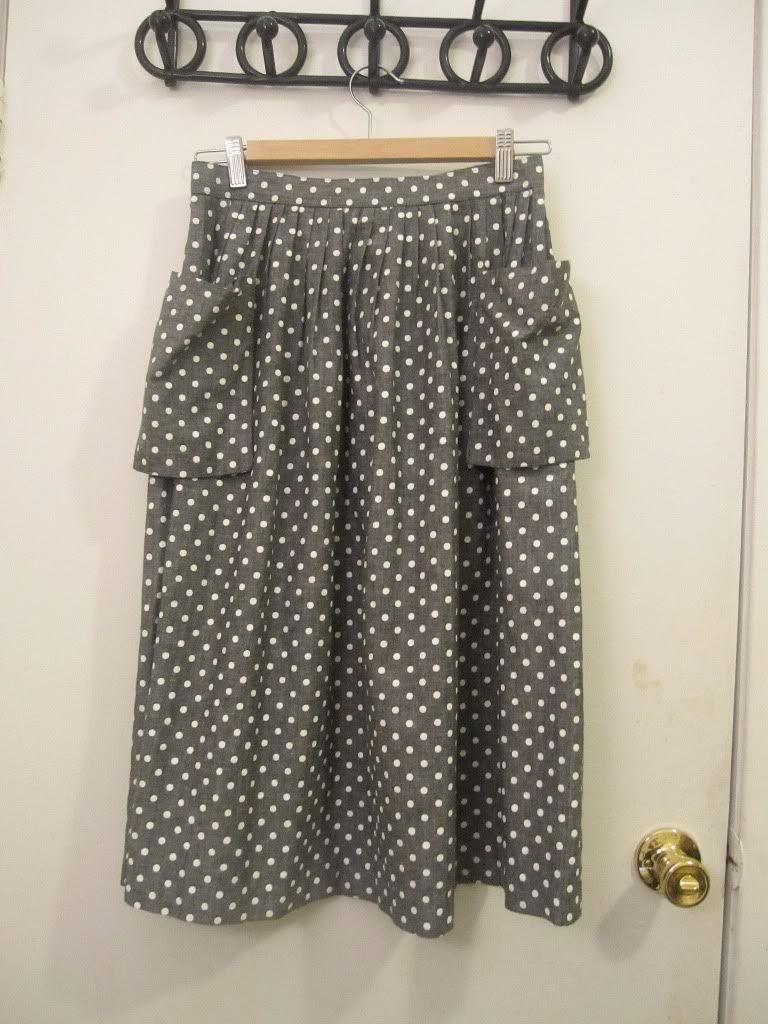 Isn't it funny that all the things I picked out were grey? I fell in love with the unusual pockets on this skirt and plan to shorten it drastically, using the leftover material creatively. For what exactly? Answers on a postcard please.
This
Cheap Monday
skirt might not have hanger appeal, but it is an interesting take on the body-con skirt, with a draped outer layer.
Yes, I'm aware my clothes could do with an iron...
Feeling slightly ashamed now, I've broken my six month
Topshop
ban. In my defence, I knew I had to get this
asymmetric hem tank
ever since it appeared online months ago (
Queen Michelle's
ownership only confirmed the fact) as it was the perfect price for something, which normally comes under window-shopping territory in the pricier boutiques. I stalked the rails of the Soho branch for weeks, annoying shop assistants with my persistent questioning along the lines of 'Whadda ya mean you don't know what asymmetry is?' On Sunday my prayers were answered and I managed to pick up the last one in my size just before closing time, and thus the ban was no more.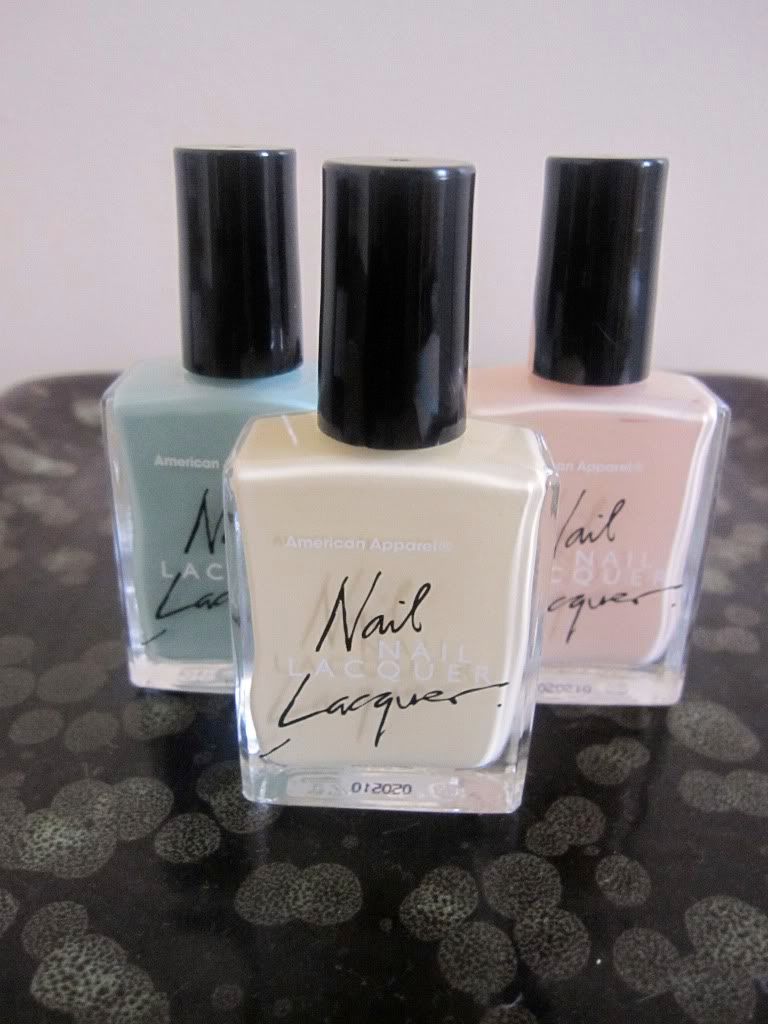 Now for something a little less dull, more

American Apparel

nail polish! Despite their s

tore hiring policies

you can't deny that colour variety and choice is the main reason to shop here (most of the polishes are matched to actual garments in the store if you really want to coordinate) and I love the fact that they don't just do the usual pinks and reds. I tested out some pastel shades and decided within a few hours that they were for me due to the whole skin tone contrast. They're slightly reminiscent of vintage cars and I am desperate for a pale blue to be added to the collection.

How's everyone's week going? I just booked tickets for an extremely flying visit to Washington DC on Saturday; does anyone have any recommendations as to what to see, where to eat and cool areas to visit? Hoping to cover a lot of ground in a very limited amount of time.

Follow on

Style :