Three weeks later...I've tried on every striped dress along the Wisconsin Ave corridor, from Georgetown up to Friendship Heights, not to mention perusing every online option I can think of. Yet have absolutely nothing to show for my efforts. I keep reading that stripes are "in," but you'd never know it judging from how empty handed I've come up in my search. Here's a few highlights:
Marin Dress
, J Crew. Epic fail. You could fit 3 of me inside the size XS of this dress. Don't let the pictures deceive you! This thing has a ridiculously unflattering cut. Behind that model there must be 5 clips giving the dress some semblance of shape!
French Connection Promenade Stripe Dress,
Bloomingdales
. Perfect (sans the 80's ponytail)! But....sold out in all but once size that of course isn't mine.
Aqua striped dress,
Bloomingdales
. I don't plan on wearing a striped dress while rolling on up to a club. So, this Bebe-esque little number is out.
Aqua silk dress,
Bloomingdales
. Cute, but a little fancier than I am looking for- I want something that can work casually for daytime. And they didn't have my size in the store.
Tie Front Flutter Sleeve Dress,
Old Navy
. Another promising option, ridiculously on sale to boot....that of course is sold out in all sizes except for XL. Anyone know if this is still in stores?
Mock two piece cabana dress,
Old Navy
. Promsing....but not exactly what I'm looking for.
Belted Nautical Stripe Tank Dress,
Gap
. So promising that I trekked to the Gap tonight after work, only to find they don't have this dress in the store. Foiled again!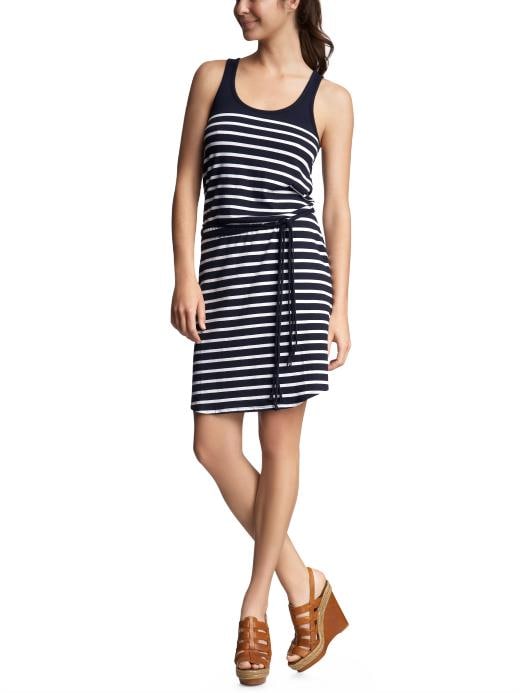 A Line Dress with Cowl Neckline,
Sarah Campbell
. I spotted this adorable striped dress a few months ago on a mannequin outside
Everards
, but $350 is just too many beans for me to throw around for a casual dress like this.
Have you seen any good striped dresses out there lately (at a reasonable price point)? I would LOVE to hear your suggestions. Bonus points if you include a direct link! At the rate I'm going, I'll probably get my hands on a striped dress just in time for Barbour weather! But at least I'll be prepared for next summer...

Style : A couple of weeks ago I noticed a girl out at Daily Grill wearing the most adorable striped dress. It looked like a classic French navy-inspired top- thin stripes, boatneck, 3/4 sleeves, knit, easy fit- but a dress version. Since I have a mild obsession with all thing striped I thought I'd keep an eye out for something similar.