Picadilly
Circus, and was devoured within a short space of time.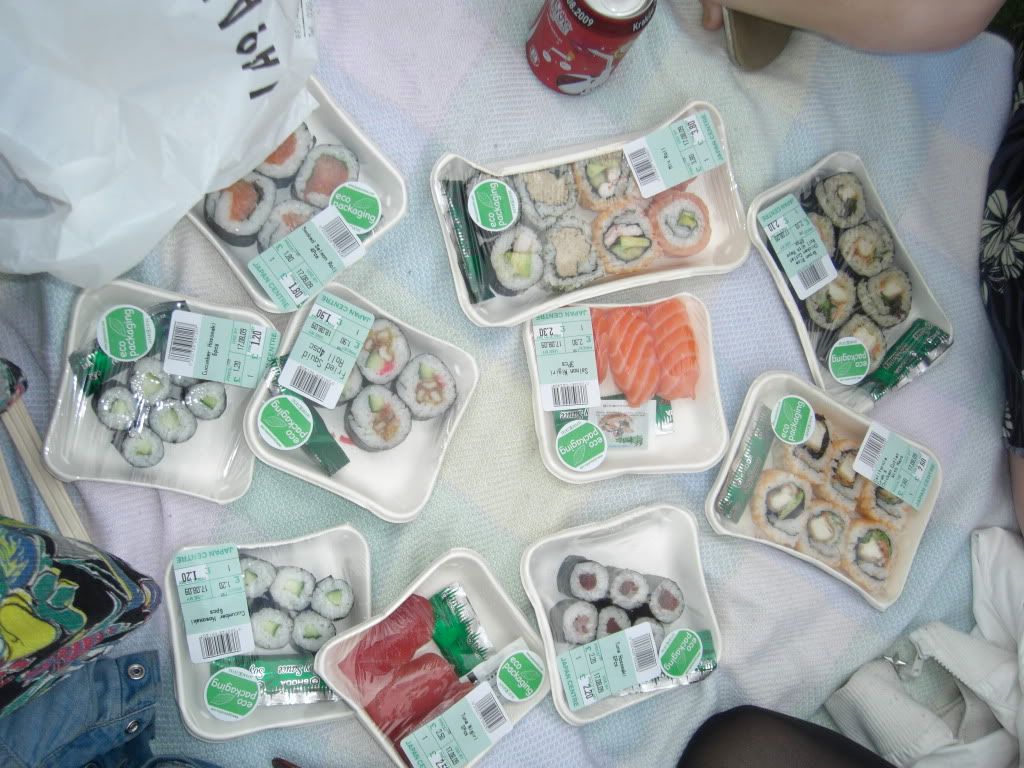 My friend told me to 'throw some shapes' for this picture. If you'd like more regular outfit posts, be prepared for strange poses and slightly bemused facial expressions. Just a warning.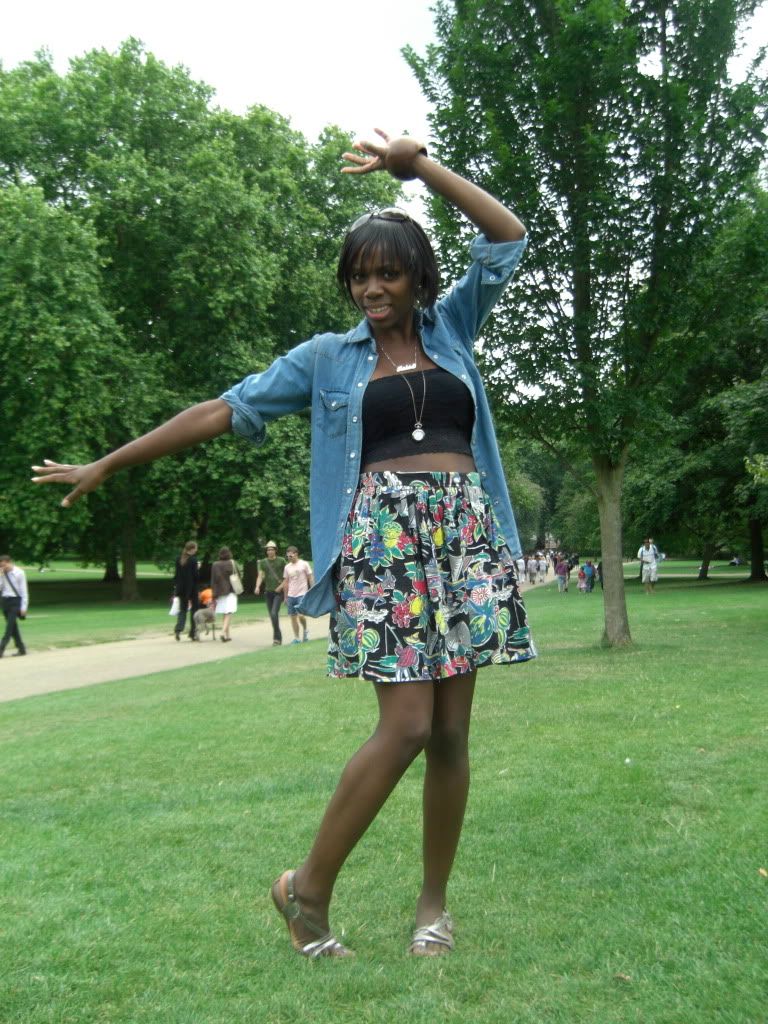 In my 22 year old state of mind, I decided to brave a small amount of midriff with the crop top
Also stopped by a few desirable shops, namely Marc by Marc Jacobs and
Selfridges
. I always knew the latter would be emporium full of wonderful things, but I hadn't fully prepared myself. These days, I'm used to looking at designer clothing in magazines, blogs and sites like Net a Porter, but hardly ever in reality, so it was great to browse rails of Future Classics, Les Chiffoniers and Preen (and to even discover a new found love for Whistles). I really liked the choice of diffusion labels and was constantly sighing as I walked around the third floor, wishing for riches beyond my wildest dreams. Of course the real reason I was there was for a bargain, a pair of
House of Holland
tights to be exact. Also bought a quirky yet reasonably priced necklace from Marc by Marc Jacobs. Stay tuned for more about these items in a future, shopping overloaded post.
Eventually we wandered to
Carnaby
St, as it always has a more relaxed pace compared to Oxford Street (chaos). Was transfixed by the Liberty print adorned store, and made a mental note to have a more in-depth visit another time, with fellow fashion obsessives. It was nice to wander around the
technicoloured
boutiques, in particular
Anna Lou of London
where I had another
internet
-come-to-life moment after seeing the jewellery. All of my future birthday presents can come from this store.
Now I look like I'm changing a
lightbulb
.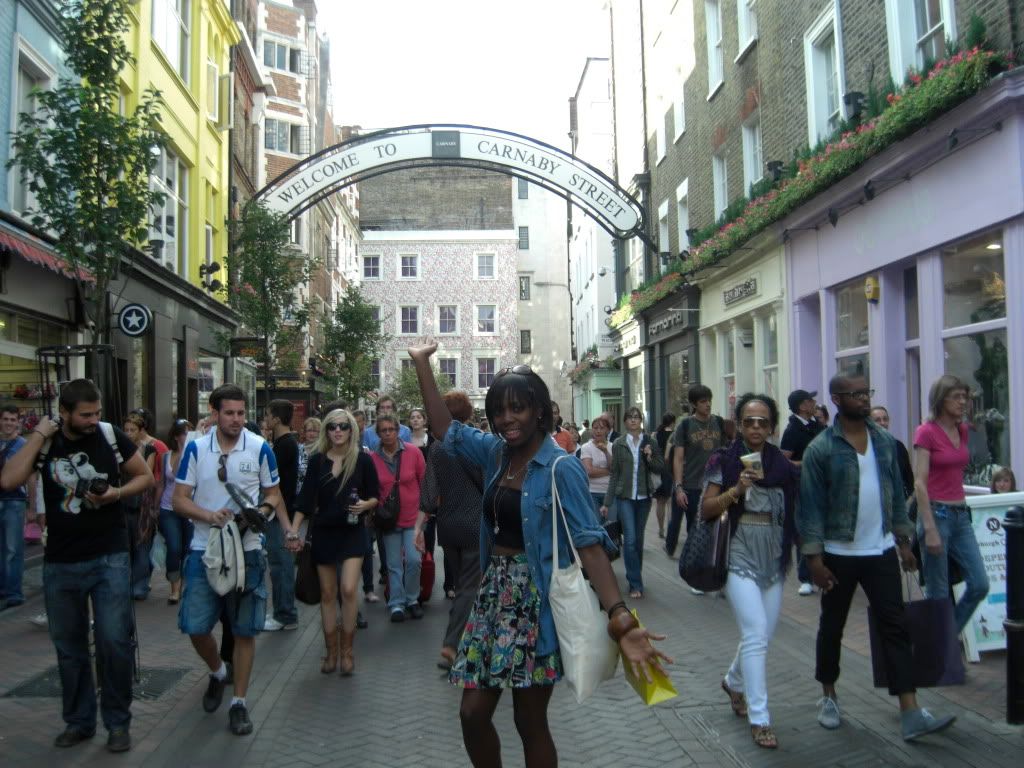 I could have spent hours wandering around the streets of Central London, but unfortunately my friends weren't quite up to it after the long distances we'd walked (I love to

power-walk

; I'm slightly impatient). We decided that it would take 5 days to truly see the main shopping areas of London, but if you include all the backstreets and hidden treasures, then you might be looking at using up your entire Uni summer break. I definitely want to explore the capital a lot more, especially the conceptual (mainly pricey) stores that I may have been too scared to set foot in a few years ago. It's really is useful for me to see the designer collections up close (especially the knits) and even though these situations may seem intimidating, it's important to not get

disheartened

. I can't wait to wander around London again, though it'd probably rain on the day I decide to go!

August is going so quickly!

Follow on

bloglovin

...

Style : Now for another vaguely self-indulgent birthday post... After not quite knowing what to do for a somewhat unspectacular age, I decided to round up a few friends for a combination of my two favourite things; food and shopping. The crazy selection of sushi was bought from the Japan Centre near