Next
for their 'Make me the Next Model' competition, I just had to RSVP. The blurb: Next has been trying to find new and unsigned model talent to star in their Next Directory, with the help of the slightly addictive powerhouse that is
Facebook
. Over 3000 entrants were whittled down to 50 on the day, and 10 finalists on the night after an ANTM-style bootcamp (well maybe I'm exaggerating, I wasn't at that part). The night was hosted at a secret riverside location to crown the winners, with food, drink and entertainment by Flawless of Britain's Got Talent fame.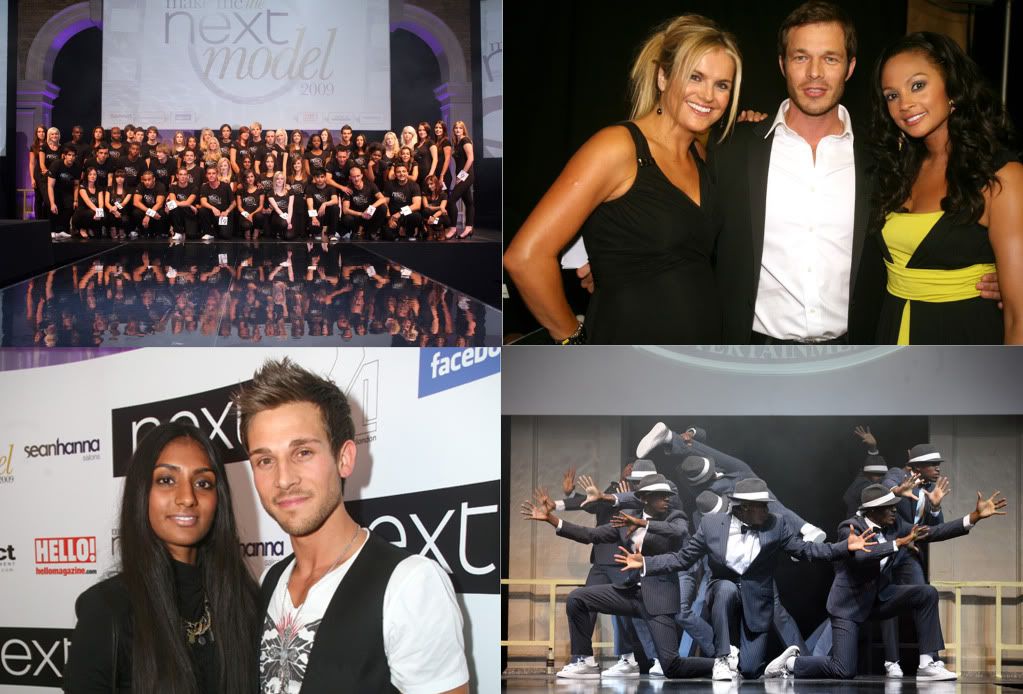 The 50 finalists; Katy Hill, Paul Sculfor and Alesha Dixon;
The gorgeous winners Kiren and Dan; Flawless, still synchronised

I wasn't quite sure what to expect when I turned up 45 minutes late (somehow got lost despite having a map), but luckily the main show hadn't started yet, and people were milling around and stocking up on the free cocktails. There seemed to be a mix of similar looking 'fashion' people, Select models (recognised a few from Topshop campaigns), competition finalists and their families, plus a few bloggers scattered around. I didn't really know what to wear; the dress code was 'dress to impress', and though I generally dress not to impress others, but to challenge myself, I knew I couldn't be as scruffy as I normally like to be. I threw on some stuff from the Topshop archive, to avoid buying something new, and went for full on floral. As you can imagine, I made full use of the food and drink at the event, practically stalking the waitresses (they were rather fast) for my next fix of minature sausage and mash. My friend Bianca was my companion for the night, and we had a lot of fun catching up and chatting about blogs.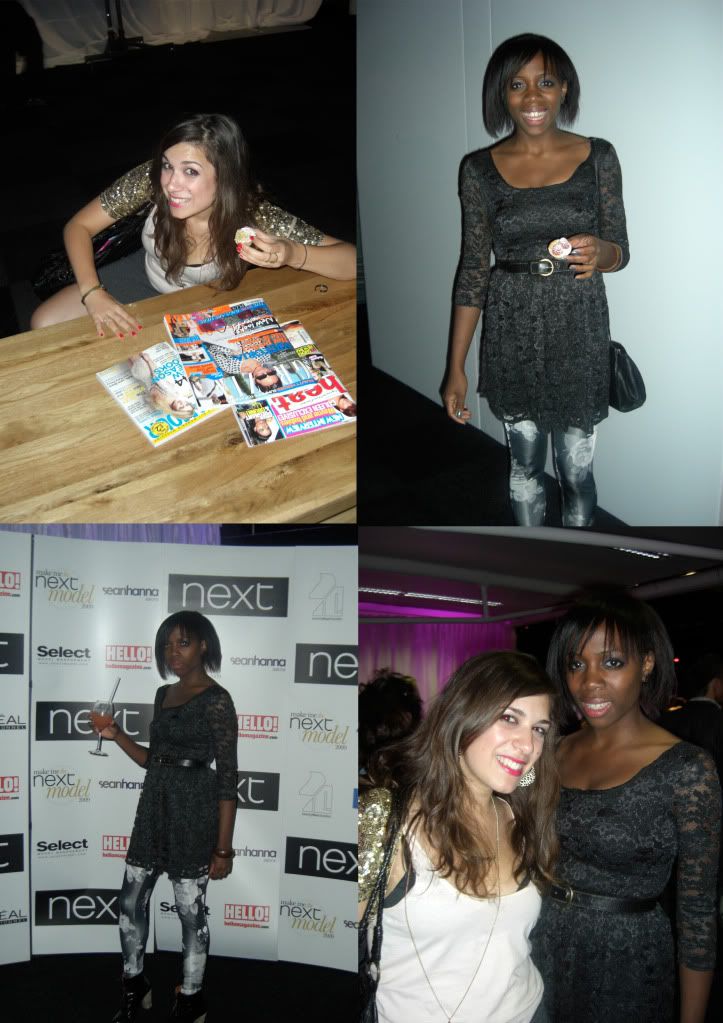 Bianca getting down with the magazines; Me with the part of the canape that I didn't manage to drop on the floor; Trying to look modelly in the thrown together outfit; A very drunk woman took this photo

The event itself was like watching a real-life TV show, with the extremely familiar Katy Hill and Alesha Dixon as well as model Paul Sculfor. There was a chance for all the finalists to strut their stuff, before the fashion show of the Next A/W Collection. I'm not normally a Next shopper, but I was quite impressed with some of their pieces, in particular the knitwear. The jumper in the centre is a dead ringer for Pucci and I shall be searching for it whenever I'm in the vicinity of a store, though I'd swap the boots for Doc Martens. Not everything was my cup of tea, but there was definitely some bits that I'm looking forward to seeing closely in store (and the abundance of male models was definitely a plus)!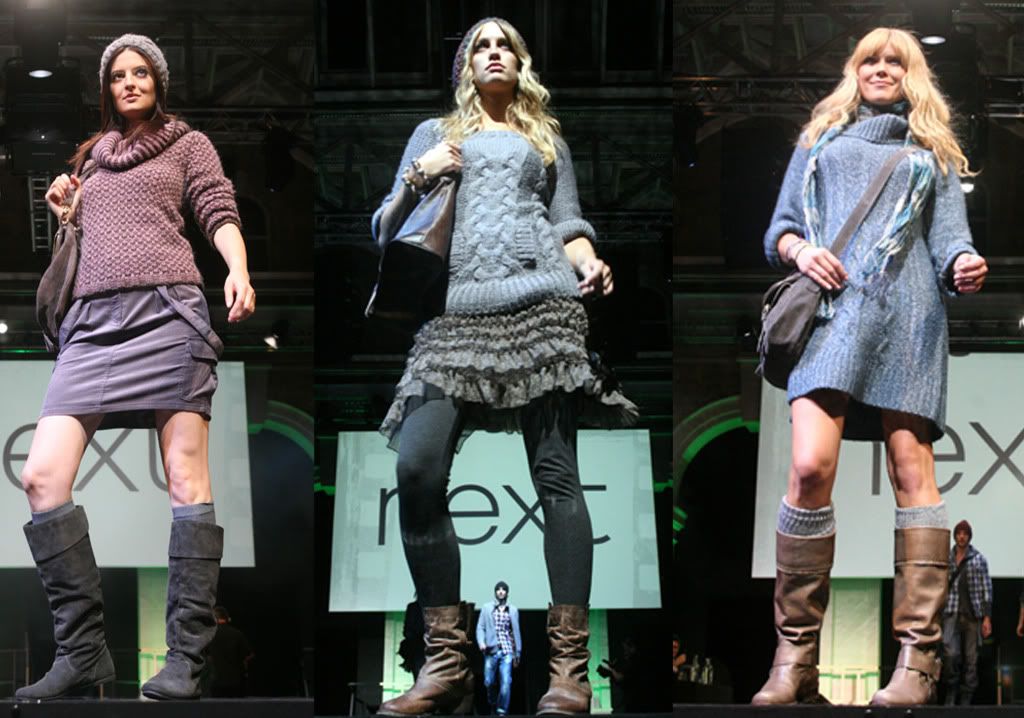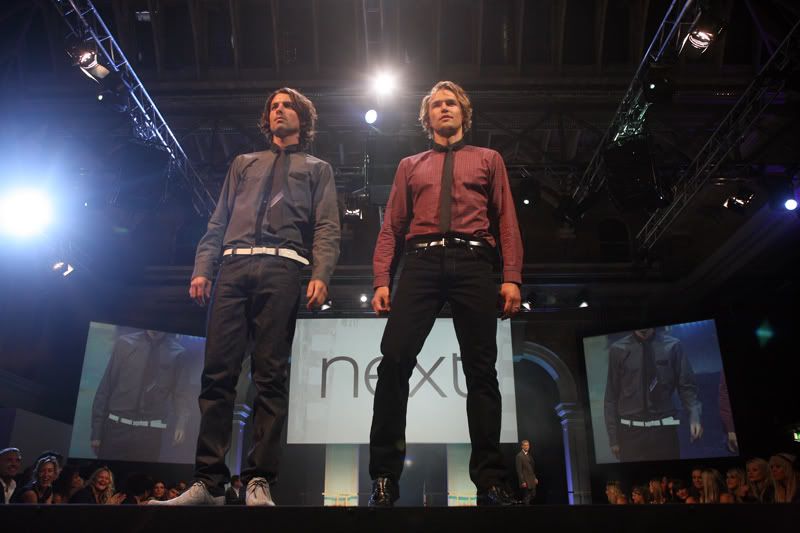 I definitely had a fun yet surreal night in this parallel fashion universe, but now it's back to reality with a bump. An advantage of this is that I feel like a person of above average height again, as everyone was so tall!

There's more photos of the night

here

.

My competition ends at 11.59pm GMT on Friday, so you still have time to try and win one of two

My Name Necklaces.Follow on bloglovin...

Style : Sifting through my e-mails brings a fair amount of junk these days, but when I was invited to a VIP evening by