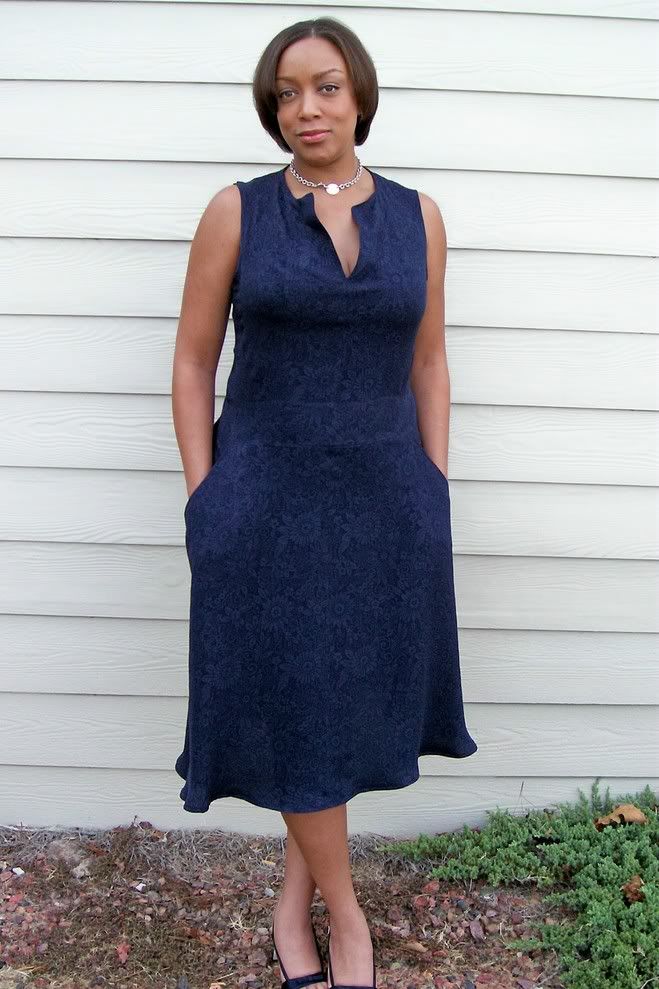 Project DetailsPattern:
Vogue 2900 - DKNY Dress
Fabric:
100% silk jacquard
The bodice of this dress consisted of 18 pieces! to provide a very tailored look and fit. Over at
Pattern Review
, three other sewist used version A, which is constructed on the bias. Since I hadn't seen version B which is cut on the straight grain, I wanted to do that one. Even though the bodice has a lot of pieces, it was not a difficult dress to make. What I liked most about this is the pockets, who doesn't like pockets! I also like the edgestitching. I learned this method years and years ago as topstitching. I was unsure whether or not I would be able to sew in a perfect straight stitch, so I used my blind stitch foot. What I did not like is that the zipper was put in last. I also shorten my zipper so that it stopped even with the bottom of the yoke. The reason I did this was because the original position caused the zipper to "bubble out" creating an unflattering fit on the skirt part. Overall, I like this pattern and the way the dress fits. I would highly recommend this pattern and don't be detered all of the cutting because it's worth it in the end.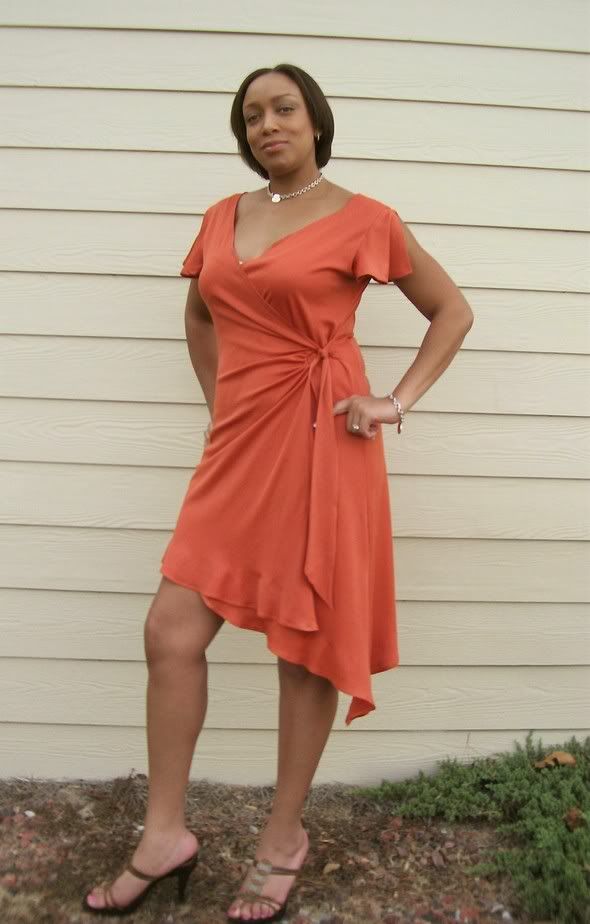 Project DetailsPattern: Vogue 7898 - Jersey WrapdressFabric:

Jersey knit in Rayon??

This pattern was quick and refreshing and dealing with a more advanced pattern (V2900). This pattern offered three versions: short, flutter sleeves, long sleeves or sleeves. There were only 9 pieces! I cut and sewed this dress in only a few hours. At first, I was a little intimidated to work with jersey, but I didn't have any problems at all. I can't say anything bad about this one, I have no complaints. What I like most was the fact that in most wrap dresses, there are the ties on the inside that hold it together. On this one, the left front edges was sewn to the wrong side of the right front seamline. Also the d-ring which was added to the right front edge in a casing provided a ruched effect. This is another one that I would recommend.

Style :