...lived a D.I.Y. Fashionista that coveted a most fabulous frock that was worn in the last year by every celebrity diva on the planet known as Earth. This made the D.I.Y. Fashionista

green

with envy and very sad that she was too poor to afford the $1,700 price tag for the frock. Now, the fairy godmothers from Vogue Patterns made the D.I.Y. Fashionista's dreams come true!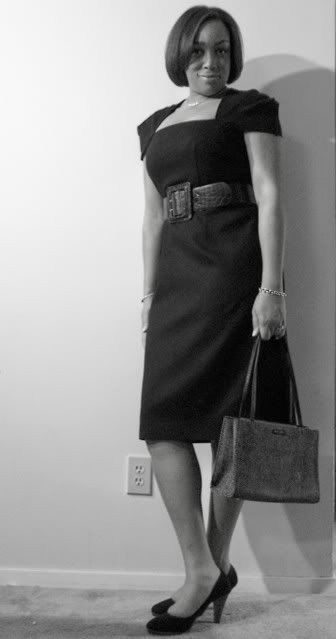 Pattern:
Vogue 8280
Fabric:
100% lightweight wool flannel
Notions:
22" invisible zipper; eye & hook
This is a "
Vogue Easy Options"
pattern that is sized from 4 - 20. I did Version E which has 8 pieces. As you know, my first attempt on this dress was in a small glenplaid pattern that was very difficult to match at the seams and darts, so I decided on the black wool to give my version a more authentic look.
Be prepared to do a lot of hightighting because the instructions jump all over 6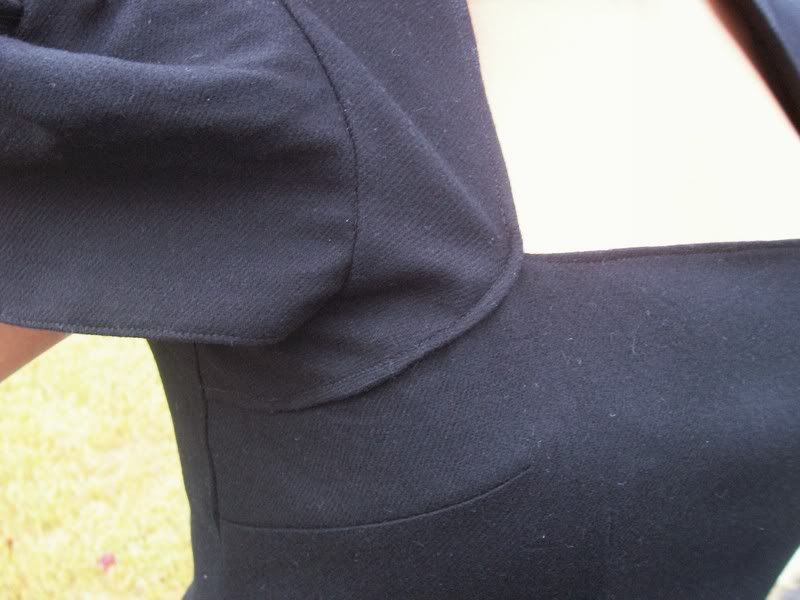 pages. This pattern starts out very easy with the construction of the front and back bodice pieces. Next is the "flange" (shoulder part connected to the sleeve). The flange and back bodice pieces all matched perfecty. The confusion started when it was time to connect the flange to the front bodice.

Read that part very carefully

. Next was the bodice lining. This dress was only suppose to lined just in the bodice, which didn't make sense to me, so I

lined the whole dress

. I omitted the part for finishing the lining and moved on to the sleeves.

The sleeves has a gathered/ruched detail that gives them the "puff" look. The sleeves are lined and have a slit opening. Once it was time to do the gathers, I didn't have any marking go by (

make your markings on the rightside!

) so I had to wing it. Hey, it looks good to me! Oh, almost forgot: I did topstitching around all edges because from what I could see on the original designer dress, there was some sort of topstitching or edgestitching. I also stitched down the flange to the bodice because once I tried it on, there was a LOT of gaping right there. All of my

darts and seams

matched perfectly and from this point on, the instructions are smooth sailing.

I fell in love with this dress the first time I saw it in a magazine and I never wanted to settle for one of the cheap knock-off versions. I also love the vintage 40s styling... when I put it on, I feel like I'm channeling Lena Horne or Dorothy Dandridge. I recommend this pattern to anyone who wants something other than a basic sheath. I enjoyed sewing this dress because I got to attach a lining to a dress with an invisible zipper and a

slit

. I would sew this one again... possible the sleeveless, sweetheart neckline in a lightweight fabric (i.e. linen) for Spring.

Style :