KTZ
(or
Kokon
To-
Zai
). I vaguely remember having heard of the shop in
Notting
Hill a while ago, but the most recent thing I'd seen was their
Topshop
collaboration. Obviously this was true of much of the crowd, as the queue was crazy (think the opening day of a new
Primark
store) and I almost didn't get in, but luckily I'd printed the entire e-mail confirmation which explained that my ticket was in the post. For once I was on the list, so was granted entry and scurried on down to the show.
Foxy leotard alert!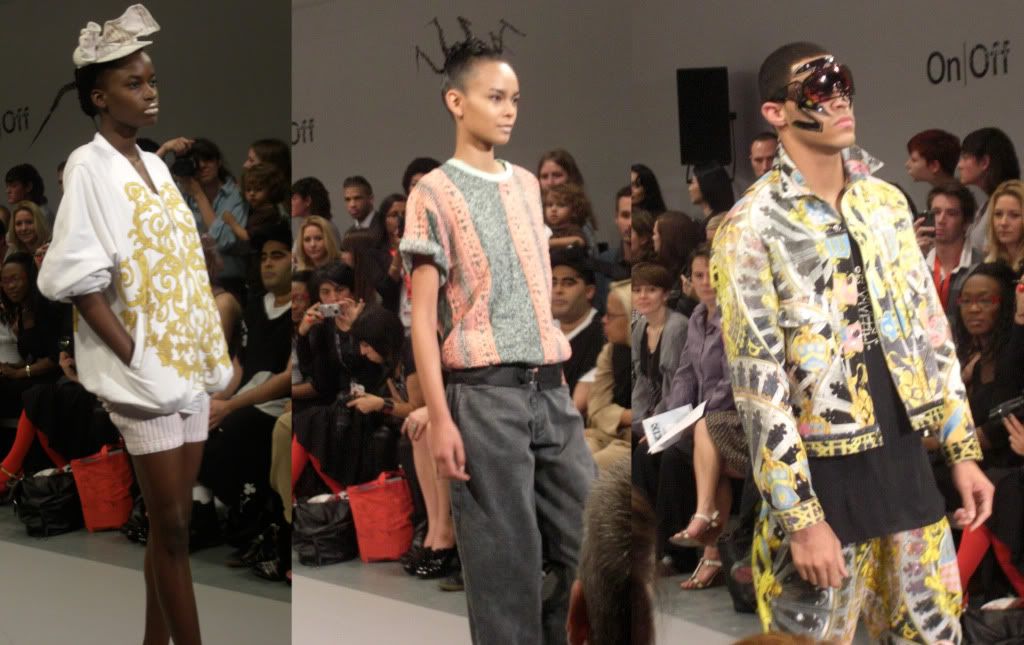 I loved the look in the centre, androgynous with a twist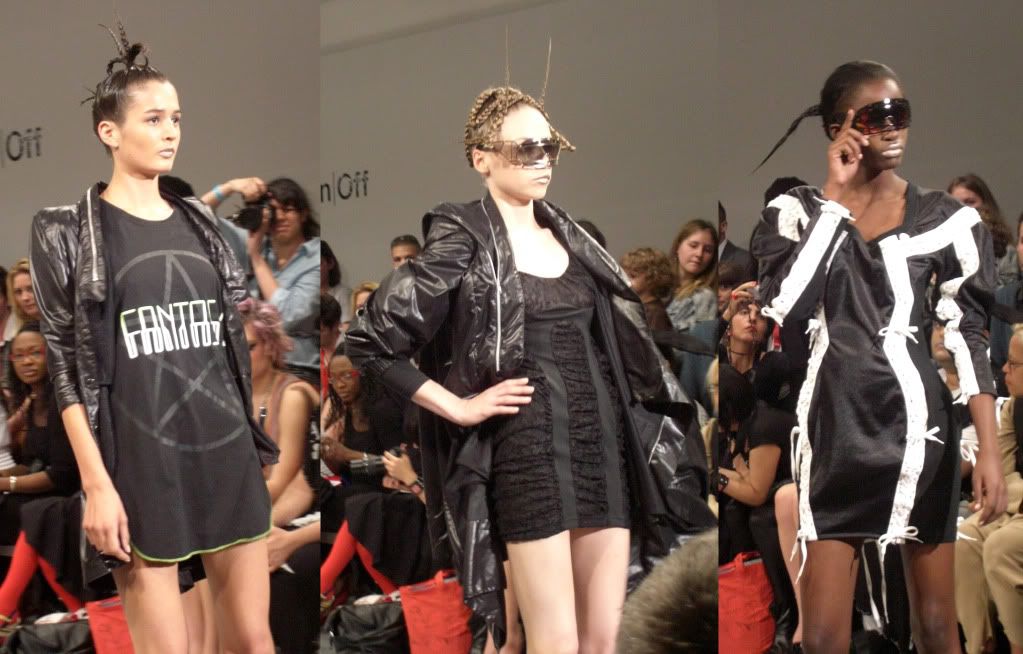 So many ways to don an

LBD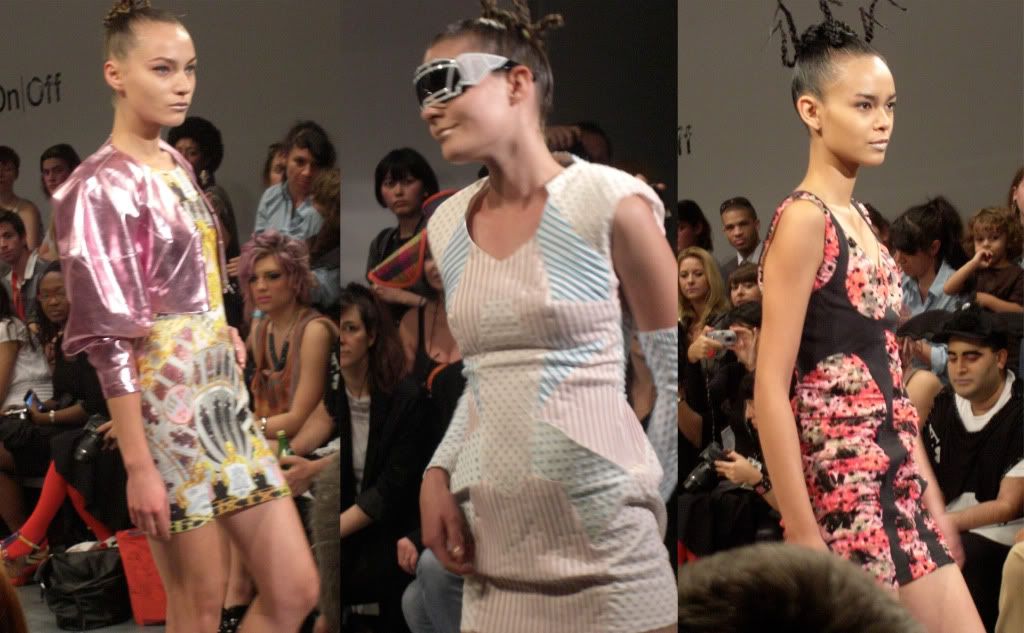 KTZ
obviously likes to do things differently. The models each seemed to take on a certain persona; some growled at the end of the runway while others looked gleeful. You never knew what was going to happen next (I didn't anticipate a rather shorter male model, reminiscent of a wrestler), but I appreciated the departure from the typical stony-faced model. The clothes were a mixture of body-conscious dresses, bold jackets and casual sportswear, of which I preferred the former. Although
KTZ
likes to have fun with it's designs, the logo covered designs weren't always to my taste. However, I appreciated their take on the parka-style jackets (reminding me of comic-book heroes), and of course the crazy leggings. It was great to see a mix of clothes you might actually wear, albeit in a different way to how it was styled; they were brash, bold and definitely not for the faint hearted.
I hope you've enjoyed my Fashion Week ramblings (hurrah to over 5 posts in one week)! It's certainly been a fun week that I didn't expect to have, and although I didn't have back to back shows, I've met a lot of interesting and friendly people between shows, as well as discovering some new designers. Surreal doesn't quite cut it as a word, seeing stars of screen (TV, laptop) and print just casually wander past to make their next shows in time. I've seen so many people dressed to the nines, and many more trying perhaps too hard to stand out (the Lady Gaga wannabe was everywhere, apparently one PR agency had her blacklisted). There's a definite hierarchy in place, and I did feel quite out of place at times, but I've realised there's plenty more years for front rows and goody bags (I say plenty, it could take a lifetime to reach such heights) and to just make the most out of the experience. Now I need to get some concealer under these bags and prepare myself for some foreign travel, I'm off to Milan!**

* It was great to hang out with

Nicola

,

Bianca

,

Tor

,

Ozzy

and

Reena

and meet

Yishyene

,

Patricija

,

Cfst

,

Marian

,

The Style PA

and

Gemma

!

** Not going to Milan for fashion week, I'm visiting a friend on her internship. I hope to come back rested and

inspired

. I will be uploading some short catwalk videos when I return, and I'll also reply to all of your lovely comments!

Follow on

bloglovin

...

Style : After a first few eventful days, things had definitely started to wind down at Fashion Week. Though tired, I was determined to make my last show at 180 The Strand, to see the much anticipated