Avsh Alom Gur
show. Well, I had thought it was a show, instead it was a presentation, so at least my standing ticket made no difference to my status, while I wandered around. It's interesting to see how the presentations differ; here the setting was a smaller room at 180 the Strand, with a definite buzz due to the many people milling around. The clothes were displayed on mannequins, with a live model posing towards the back of the room.
The clothes were floaty, print-heavy pieces, and the use of wind-machines illustrated his vision of giving movement to usually static black and white prints. I really liked the extensive beadwork on some of the pieces, bringing a more exotic 20s flapper style to mind, as well as how he reworked the prints in each piece, by repeating and adding certain elements throughout the collection. Although I would have liked to see a show, as there was some impressive stuff in the lookbook that I never got to see in real life, the presentation was a worthwhile experience. I enjoyed studying the pieces up close (if I were braver, I might have even done some networking) and absorbing the Fashion Week atmosphere. Sometimes shows can go too quickly, and you regret trying to record the experience on a dodgy camera, rather than just living it and taking it all in.
Some photos are courtesy of Yishyene, thanks!
The next stop was much later on, so I took another Covent Garden cupcake break. I was slightly worried, as I was due to meet some people but had a phone devoid of battery, thanks to silly amounts of mobile internet usage. Luckily I recognised
Yishyene
in the queue (could have been quite embarrassing if it was someone else) and we quickly hit it off and got chatting about our fashion week experiences. The show in question was devised by the good old
BBC,
giving young people (far younger than me, 'sobs') a chance to organise a fashion show from start to finish.
1.WO/MAN
was presented as an 'egalitarian collection for men and women' promoting experimentation and personal expression. I noticed that
Julian Roberts
was mentioned in the credits, a designer who once gave a lecture during my foundation course, and his pattern cutting methods of subtraction were certainly present. I love a bit of draped deconstruction, and there were some promising pieces in the collection. Definitely a worthy first attempt for the people involved.
Extremely blurry pictures due to models walking at the pace of Usian Bolt.
The show also featured some t-shirts which will be sold on their site in aid of Children In Need.
Also met Patricia on the front row, of all places.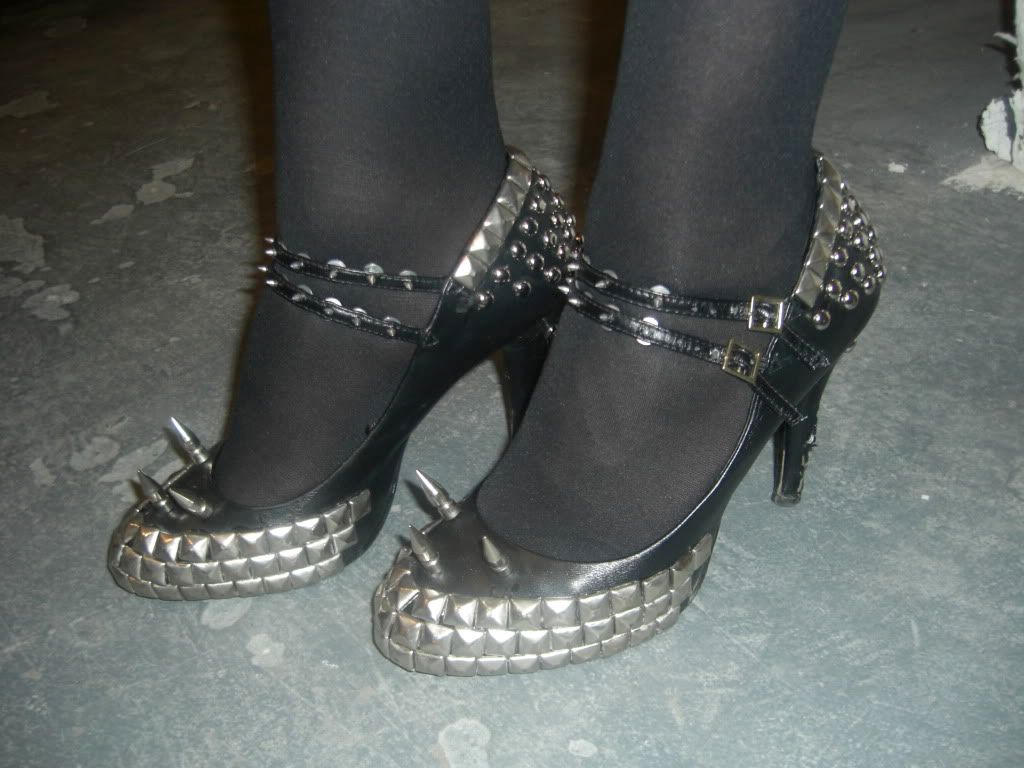 Jak and Jil style pic of Patricia's DIY shoes. Too cool.

I've accepted that I will never be street-style snapped, due to not wearing some kind of fur coat or bow tie, so ditched the heels and embraced the Docs to let my feet recover.

There was a drinks reception afterwards, where I chatted with my new blogger pals some more (joked about domain names, blogger sightings and our, well my, total lack of business cards). I think September is the month of the blogger; I'm meeting them on an almost daily basis!

Follow on bloglovin...

Style : It's tricky to express how the last few days have been, for they've felt like a lifetime away in a parallel universe. However, Monday mornings are always the same for me, and I had to pop back into normality for a few hours to go to work. Shift over, I quickly rushed home, and got ready for another fashionable day out at the