Liberty
for the Marcus Constable show. His CV is certainly impressive; his collection was scooped up by Liberty and Koh Samui soon after graduating and he has consulted for Claude Montana in Paris among others. Now he's back showing a clean, cohesive collection full of detail and styled whimsically with oversized brogues and windswept hair.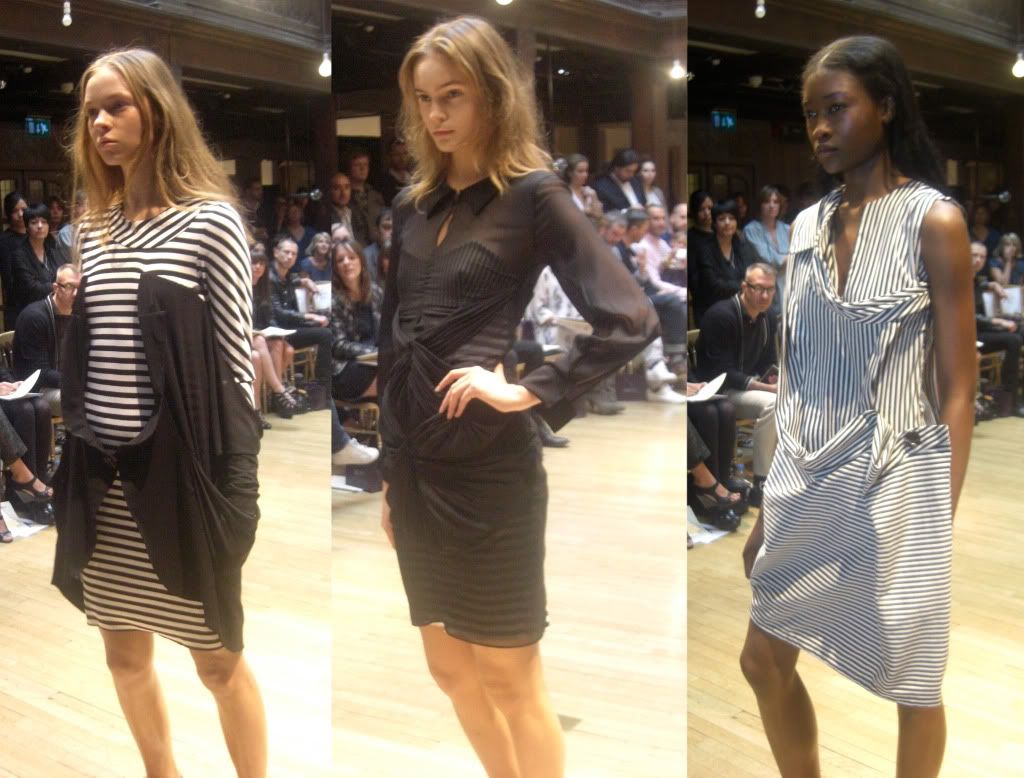 The clothes were quirky enough to be interesting, and layered in a gamine style with plenty of breton-esque stripes. The Liberty store was also a great setting for the show and really helped create the sense of occasion. I should visit more often.
I liked how he reinvented traditional shapes, yet really manipulated the clothes using tucking, pleats and drpaing. I am sure I will be attempting elements of this style in Summer 2010.
The next stop was
Qasimi
further down the road at the
Red Bull Fashion Factory
, where I saw an opulent show full of soft Grecian draping contrasted with extreme embellishment. I didn't manage to get decent pictures of the more colourful parts of the collection, but I liked the variety between regal elegance and 80s glamour. I filmed some bits of the shows, and will pop them up at some point.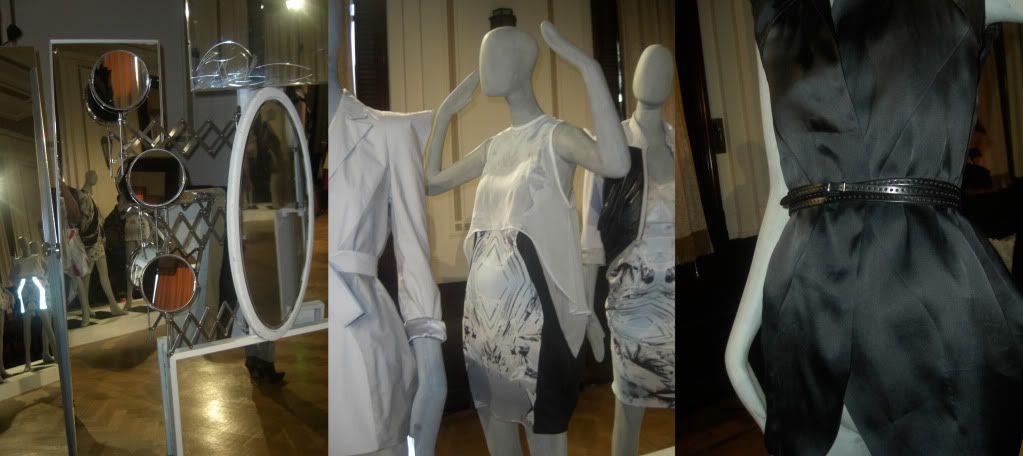 Thanks to Tor of
Fabfrocks
, I was able to head to the
Louise Amstrup
presentation back at Vauzhall Fashion Scout. The setting was a room of glass and mirrors, which I found almost as inspiring as the clothes. There was structure, in the form of jersey tops with reflective panels and gauzy layers, and draped skirts.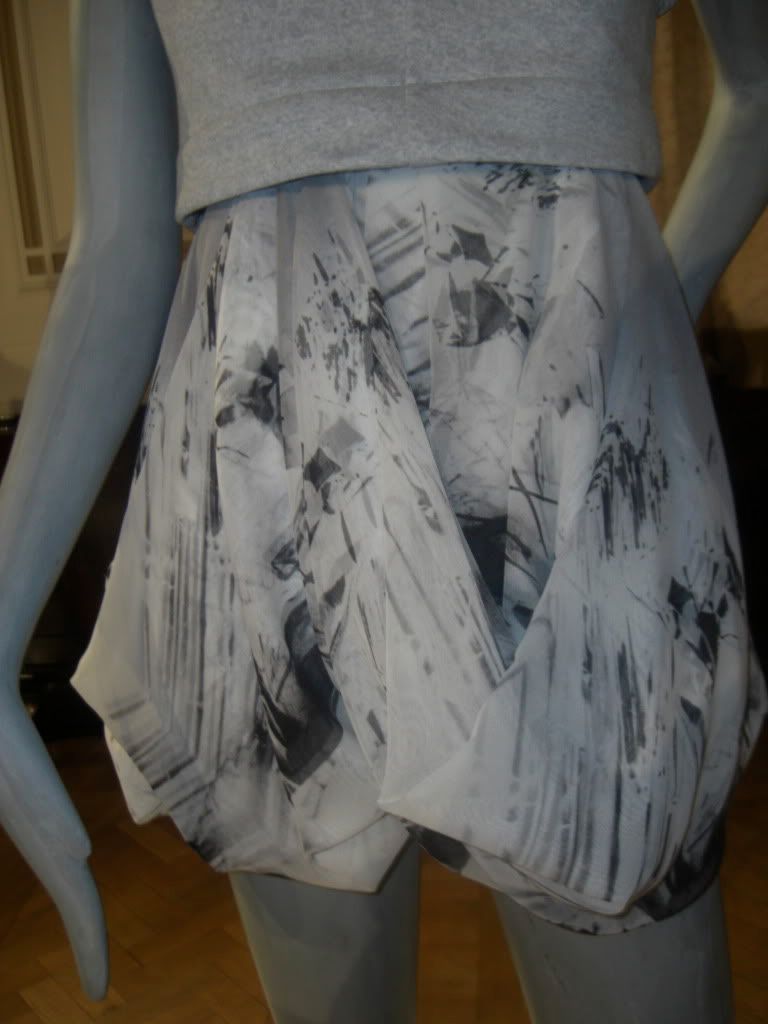 Live models were there to show off the clothes, and were constantly appearing out of nowhere and swapping amongst themselves.
After this, it was back to the
Red Bull Fashion Factory
, to watch a live stream of the Vivienne Westwood show, within the same building! There were live artists sketching away, random celebrity sightings such as Geri Halliwell (and a BNTM finalist) and a nice bar serving Red Bull in a cocktail form I could get used to.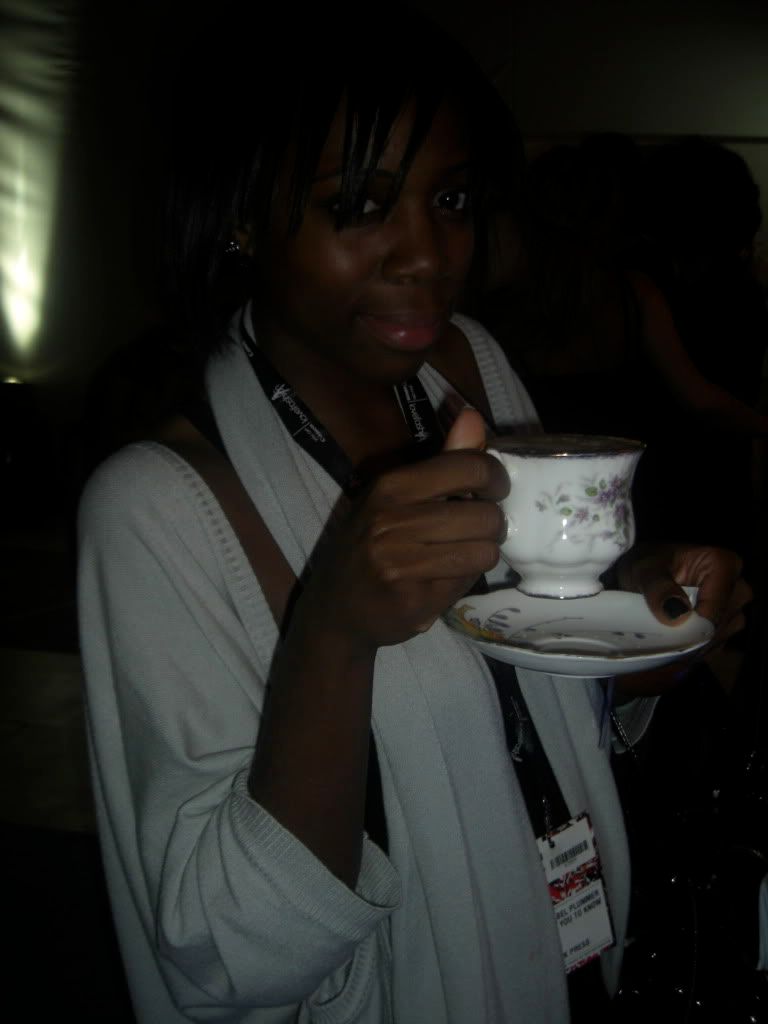 Though the coffeee was quite nice too.
It was great to watch the show as it happened, and to see the drama unfold with models stomping down the runway in Westwood's finest. There were the signature tailored elements, yet also candy cane style stripes, preppy layers and some references to her political views. The model choice was random, Coco Rocha (who I saw getting into a cab after the show), Pixie Geldof and Lisa from Big Brother, but somehow it was something that I expected from the original fashion rebel.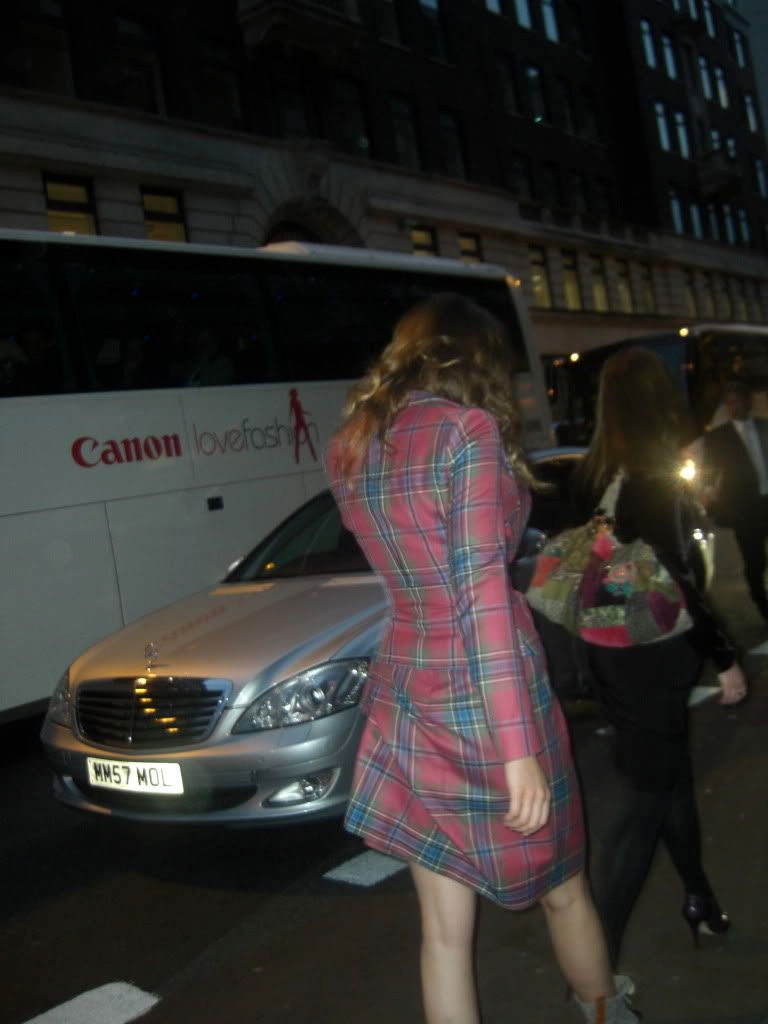 Outside after the show, the paparazzi were abuzz, and I tried to join the best of them. I only managed to catch the back of Joss Stone, but I think it nicely shows off her tailored suit that could only be Westwood. I also saw Alexa Chung around the corner, but was too bewildered to take any kind of picture.

Follow on bloglovin...

Style : Sunday is usually a day of rest for me, but this concept doesn't seem to exist during fashion week. I was up bright and early to whisk myself away to