YSL Mani
festo
. For the past few seasons, the house of
Yves Saint Laurent
has been producing a newspaper-style pamphlet complete with cloth tote, detailing his message for the coming season through choice of model, styling and setting (Susie Bubble perhaps explains it better
here
). In other words, it's a slick marketing campaign by creative director Stefano Pilati, designed to cause mass hysteria for obsessives worldwide. They are handed out in central location in cities all over the world and the manifesto itself doesn't always make a lot of sense, but it's still a nice piece of designer memorabilia to have (plus it's free)! Luckily for this season I was able to be in the right place at the right time and after missing Fashion's Night Out, I thought I could brave the early start. With Bond Street chosen as the preferred location, I teamed up with
Ozzy
and
Reena
for the fashionable mission. I was slightly early meeting them, giving me enough time for confusion and paranoia to set in. By Bond Street, did they mean the tube station or the actual
New
Bond Street that was a bit further down? Or could it even be near Selfridges as Reena stated before? The location seemed increasingly vague, and I tried to identify some fellow YSL devotees, asking one girl hanging around the area if that's what she was waiting for, to which she replied 'No English.'
Soon enough I was joined by the others, and we loitered around a bit until suddenly, we started to see a few people with the white bags. One burly man even had about 10, which was really confusing as I thought he might be handing them out and had to do a double take! Eventually we found the source and I managed to pick up one for myself and my Mum. The magazine has some bold graphic statements to sum up the outfits pictured (my outfit would have been 'BLACK STRIPED FLUFFY CARDIGAN, FLORAL PLAYSUIT, GREY TIGHTS WITH 28MM DOC MARTENS,' not so YSL I know) and some nice pictures of the supermodel Christy Turlington. Definitely going to put some pages up on my walls.
I think I was still talking when the first picture was taken...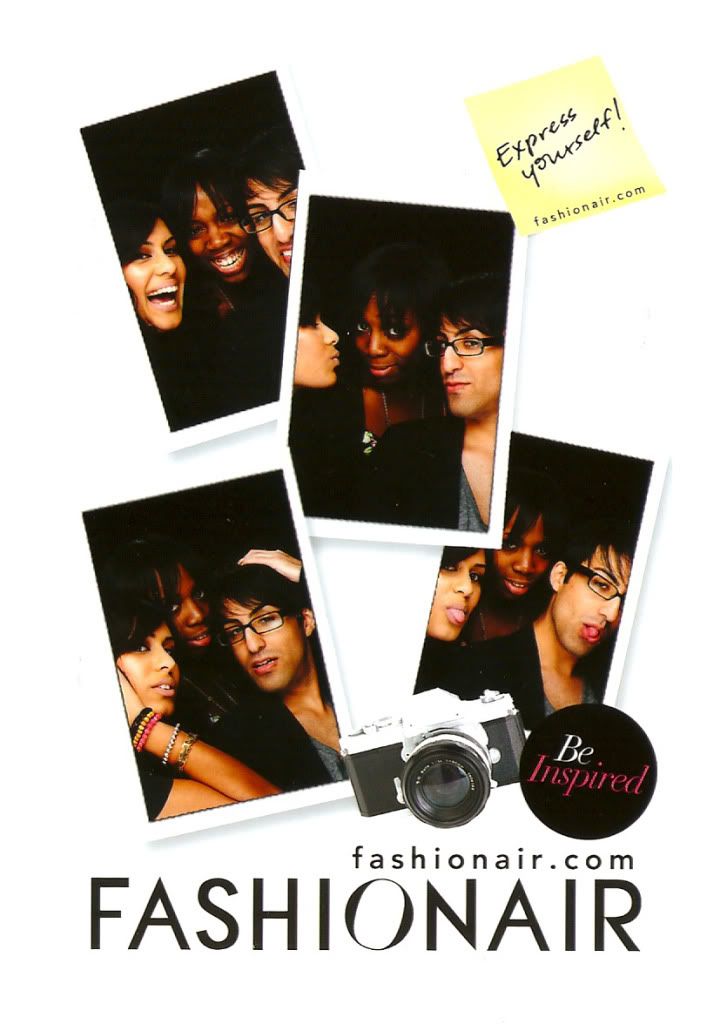 Warning, some extreme posing above. Trying to smile with the eyes, Tyra Style.
After this little adventure, we headed to Selfridges, as I was inspired by
Rachel
to see the
Fashionair
photobooth. There's a massive promotion during the month of September, where you can record a video describing what you're wearing (mine is very dodgy) and take some old-fashioned photobooth style pictures for free! They even did a little interview with us individually, but I probably sounded really boring as I was wearing full-on Topshop and probably didn't make a lot of sense. It may end up the site soon. In the meantime, here are the extremly posey pictures, I'd definitely recommend going (I'll probably be back soon). The camera used is amazing, as none of my ID pictures have ever looked like this before! Maybe I can cut and paste these into my passport...
Decided to spend some of the Aussie-given Topshop voucher, but was rather overwhelmed by the Oxford Circus branch (had somehow erased the memory of the frenzied crowds). I grabbed some jewellery to jazz up some fashion week outfits, and quickly popped into Urban Outfitters for these
cobweb
style tights. I believe that Zara had a similar pair in their window, but when I asked an assistant, she curtly replied 'We don't have them here,' so splashed out on the slightly pricier Urban pair. I think they'd look pretty decent on their own, but also layered over other colours and patterns is a possibility. I think October may have to be the month of curbed spending, what with Christopher Kane for Topshop out on Friday and a potential winter
coat
.
Anyways, I managed to grab some bag-less manifestos (5) to give away to whoever e-mails me first. All I need is the postage cost reimbursed, as I know that some of you are pretty international and it's quite a thick bit of paper. E-mail me

here

to grab them.

Follow on bloglovin...

Style : Due to being either stuck in the Midlands or part-time employment, I had always managed to miss out on the