Clapham
seems to have heard of, so it's nice to have the change in surroundings. After my
Aussie
adventure, I made the most of my
travelcard
and decided to visit some of the pricey shops I'd been talking about
here
, purely for inspiration and too see some designer items up close, rather than from my laptop. First things first, here's the epic cardigan I found at the Joy
event
. It immediately screamed to me
Complex Geometries
with a shape previously unseen in my cardigan collection.
This wonderful creation is not your typical long cardigan. It has a long scarf-like strip attached to the sides, and huge
batwing
sleeves for maximum volume. The built in scarf can be draped around the front or even worn as a makeshift hood on a bad hair day. There's even some handy pockets, which caused much excitement while exploring it the other day, and doubled it's practicality. Baggy cardigans are not generally my thing, but I like how the features here are so unusual, and how it looks with a tighter silhouette on the bottom half. It will definitely be an Autumn (and probably Winter, Spring and Summer) wardrobe staple.
Here are some interesting snaps of the rest of the day. Feeling rather fancy in my cardigan, I finally made the long awaited trip to
Dover Street Market
. Dover Street and the surrounding areas are like another world, hidden behind all the typical tourist traps (reminds me of
Diagon
alley in Harry Potter, strange analogy I know). With all the flash cars and even flasher shoppers, I felt like I could be in Monaco, and had many episodes of bag envy. However I didn't let this put me off, I wandered into some shops and took a few pictures of some interesting bits, using my covert photography skills. Next time I do this, a notebook is
definitely
needed (to get even funnier looks) as there was so much I liked that I couldn't photograph.
Spied some nice
bobbly
knits at
N.Peal
. I'd love a more extreme version.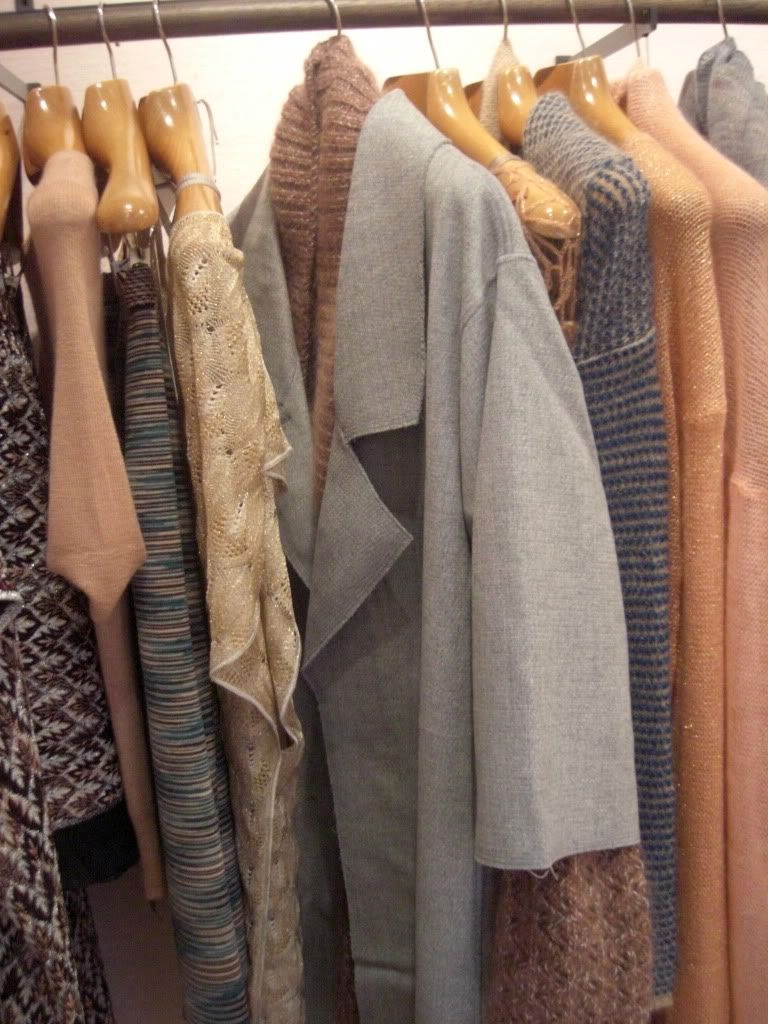 Here is the
Missoni
coat I
featured
now seen by me in real life at
Browns
. The cardigan felt lovely, and was such a nice contrast with the tailored overcoat.
Gotta love a bit of Chanel. Was too scared to go in the shop, so had to admire from afar. This necklace pretty much wipes the floor with all the ones I own. One day I'll venture inside...one day.
Doing inspirational window shopping is quite a cheap day out as the only thing I had to pay for was food and travel! I'd made a mental note to visit
Ella's Bakehouse
in
Covent
Garden, after reading a few magazine features and literally salivating at the pictures. After feeling slightly bewildered in crowded Oxford Street, we decided to make the trek. I was not to be disappointed.
Being the indecisive person I am, I decided to get 1.5 cupcakes; the Vanilla and Red Velvet flavours (if I could marry a cupcake, it would be this one). Both very yummy and very memorable. I would recommend going there a bit before they close, as when I bought 3 extra to bring home for my family, I hadn't realised that the assistant had put in a few extra! So I was able to have another when I got home! That's a lot of cupcakes...

Follow on

bloglovin

...

Style : Travelling into Central London is always an occasion for me. Even though I live in the capital, my neighbourhood is not really part of the bright lights of the West End or the 'trendy' north east areas. I live in the forgotten, tube-less area which no one north of