This is a series I'm doing where I'm sewing basic wardrobe pieces, you know, the kind that if you ran to the mall you'd pick up. The first is a pair of wide leg pants. Since I'm revolting against all things
skinny
, I made these: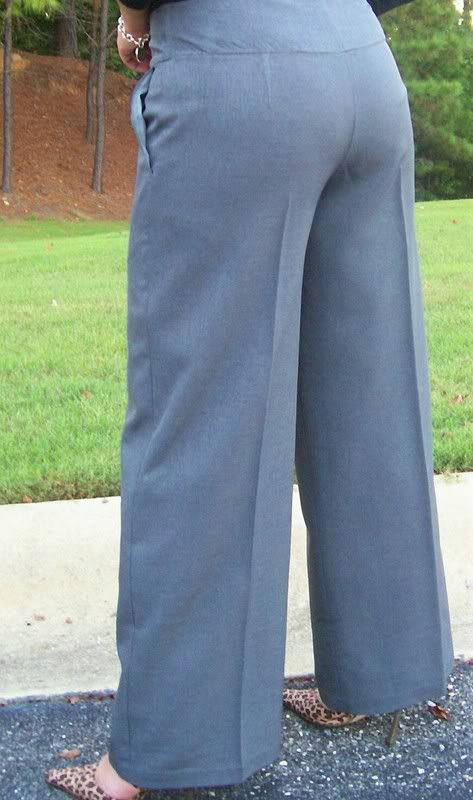 Project Details:
Pattern:
Vogue 8131 - View A
Fabric:
98% Wool/2% Lycra
100% polyester (for lining and pockets)
Notions:
7" zipper; two 3/4" buttons
This
Vogue Basic Design
(rated easy) pattern is a mock fly, slightly flared pants with yoke waistband, side seam pockets with hem variations -- I did a regular hem. It's sized from 6-22, I cut my normal pattern size 16, which is equivalent to the R.T.W. size 12 I would normally buy. The instructions were quite simple, to the point that most of the time I didn't even read them. I would
ONLY
recommend that if you've sewn pants before.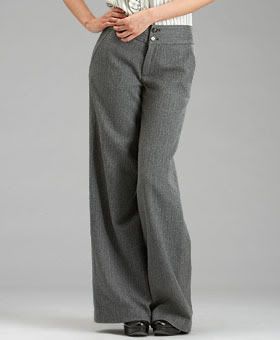 What I like

most about this pattern is that it came real close to looking like the

Marc by Marc Jacobs

wide leg pants that I've been craving that retail for $278.00. From the illustration, I thought that the waistband was going to be a lot higher than it was and I was prepared to make an adjustment but it was perfect -- they have a 10" rise! I did have to shorten the zipper from 7" to 5" so that it would fit properly. They look a little different from the pattern envelope because it's a line drawing and who looks like that anyway? I like the way the pants fit in the back. If you've watched any fashion segments or T.V. programs such as "What Not To Wear" (both versions

BBC America

and

TLC

), or read fashion magazines, you know that the wider the yoke, the smaller your butt looks and wider legs balance out hips. I'm all for illusions!

What I didn't like

is that they are indeed a "mock fly". I failed to read that part prior to purchase. Mental note:

R.I.F

.

(

R

eading

I

s

F

undamental). This isn't a big problem, just personal preference. I thought the "naked" zipper made the pants look cheap, so I fully lined them, which I feel makes everything hang better.

In conclusion, I would/will probably make another pair, one of the cuff versions because I really like these

Rebecca Taylor

pants. I read a couple of reviews on

PatternReview.com

and one was very negative, so you always have to trust your own judgement and know your body and what looks good on you.

Style :