C'N'C
, bringing fashion to the masses (though I think a few oldies were there for the questionable support acts). I wasn't in the best place, stuck in a crowd of 10,000 (all the tallest people, with large hairstyles seemingly blocking my view) but I managed to soak up the atmosphere, and was surprised to see Daisy Lowe and Pixie Geldof modelling (I guess they're following me around). I managed to film a small part, the quality isn't very good, but hopefully you can get an idea of things.
There's a far better video
here
at the official site, so you can actually see the clothes properly. I couldn't see much from where I was in the crowd, but could tell I liked the grungy separates and swirly prints from afar. It was great to see a fashion show in such an unconventional setting, next to a cathedral that took hundreds of years to build. By day, the amazing structure can be fully appreciated; we climbed hundreds of steps to get to the top (there is also a lift, for more sensible people), and I took pictures from every angle, seeing inspiration around every corner.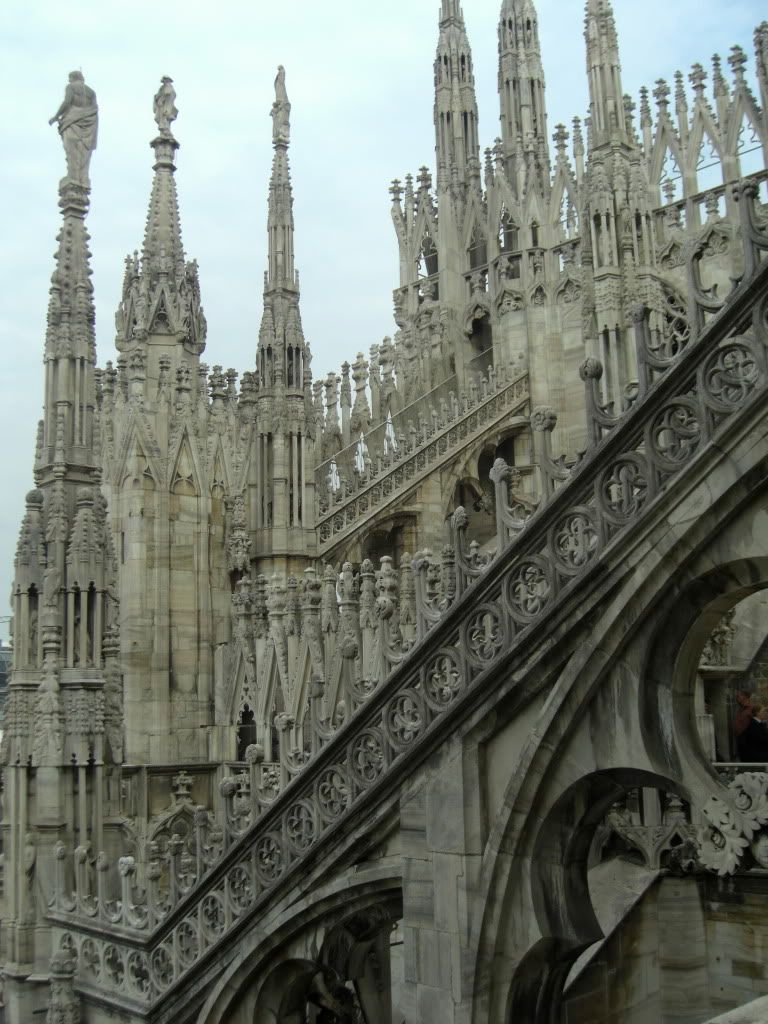 It goes without saying that Milan has shops galore; where else can you see a Prada opposite a Mc Donalds but in the Galleria? You definitely need a lot of Euros to make it your shopping haunt, but despite this, I enjoyed wandering around and seeing members of the fashion elite go about their business.
A picture by one of the many specially designed Coca Cola bottles decorating the city. Designers such as Etro, Fendi, Marni, Missoni, Moschino stamped their signature aesthetic onto the iconic bottles. Stupidly, I forgot to note down who designed this one.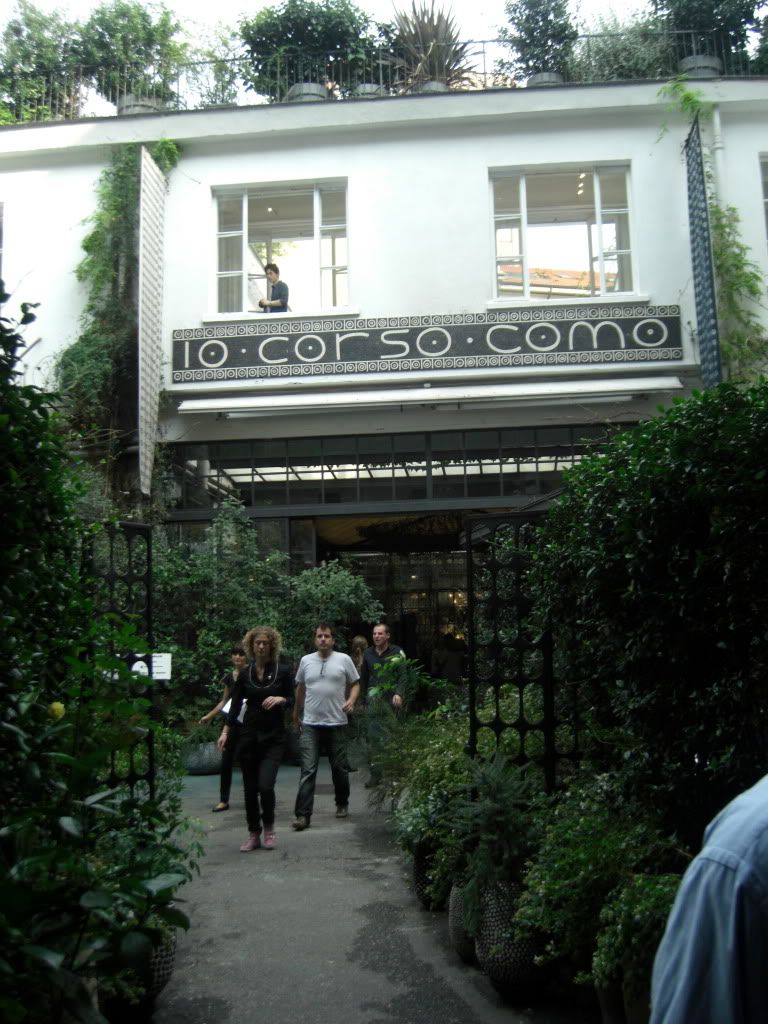 Another dream shopping destination was
10 Corso Como
, a small concept store with Italian flair. From the outside, it looks pretty ambiguous, and once you explore behind the facade it appears to just be a botanically diverse outdoor restaurant, but don't give up. Wander upstairs and you'll see thousands of inspiring design books that you never knew existed (I'd love to adorn my non-existent coffee table with the biographies of Balenciaga and Chanel) and even a gallery. The relaxed pace of the store is continued in the womenswear section downstairs, where I was haunted once again by gorgeous Christian Louboutin heels and Alaïa fine knit dresses.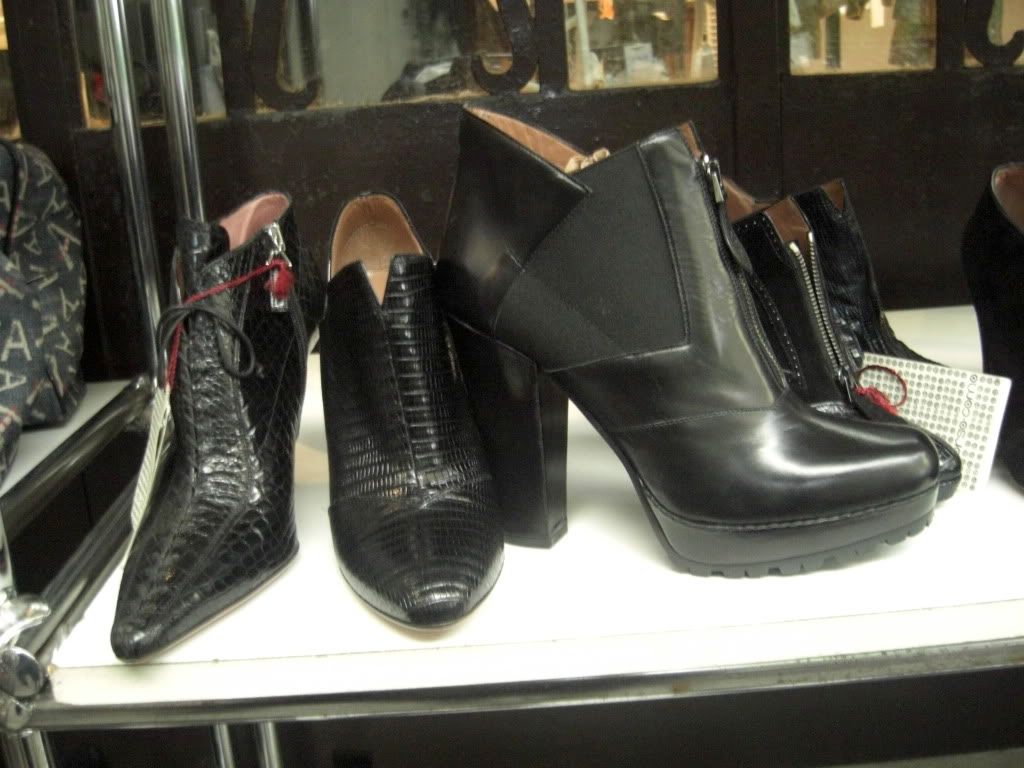 There's also a nearby outlet, complete with a bargainous 10 euro rail of white jeans and random bits of Kate Moss Topshop from yesteryear. My friend was tempted by some Manolo Blahnik's for 150 euros, but I quite fancied the above Alaïa ankle boots. I think they were still a few hundred euros, so I guess I can keep dreaming.
As my budget didn't quite stretch to Prada, I had to seek solace in the Milanese high-street. There wasn't really anything unexpected, as we have many of the same stores in the U.K for less, so I tried to go for things that were close to the price they'd be in pounds. I hadn't seen the floral top in H&M before, and really liked the contrast in the print, so that was quickly snapped up. The grey zip top from Bershka was needed to go with my many pairs of leggings, as was the oversized striped Pimkie tee, with a sleeve that can be ruched up easily. There was a lot of stuff I was tempted by in the grandest Zara store I'd ever seen (a possible structured shoulder jacket to start the bandwagon jumping) and Mango, which I will try and hunt down when I hit the West End shops again.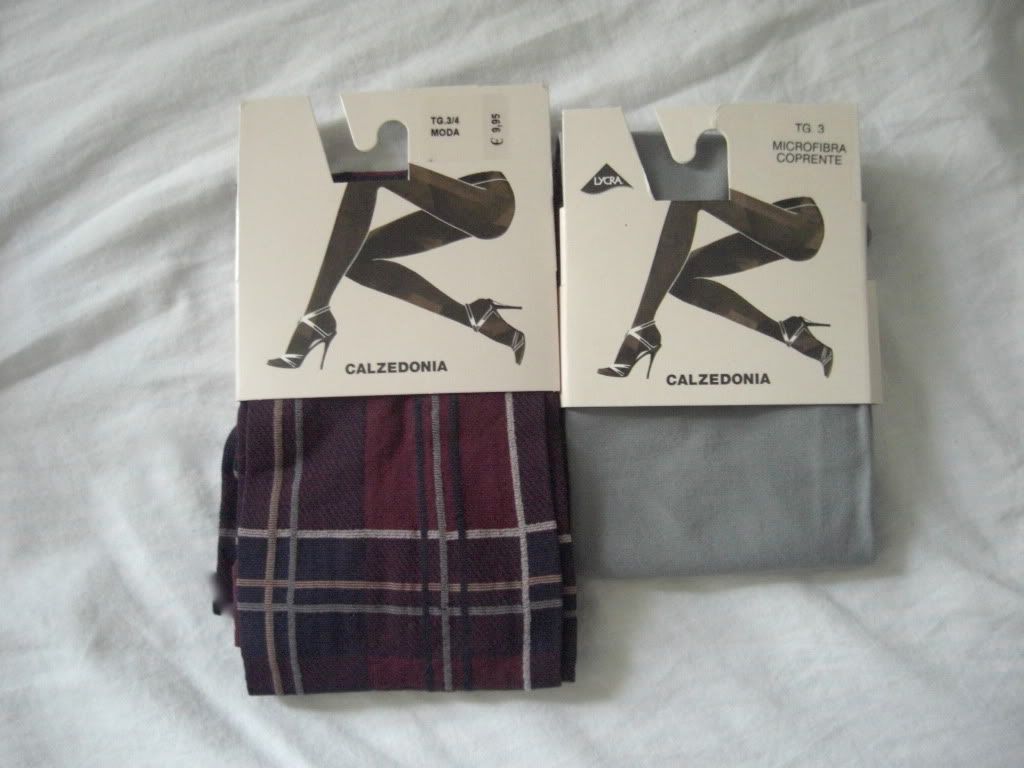 What I can rate however, is the tights extravaganza that is
Calzedonia
. Fabulous tights in every colour imaginable for a reasonable price. I've been searching for pale grey tights for a while to replace the pair I bought in Florence earlier this year, and I hadn't been able to find the specific shade I wanted back at home. After much wandering to find another branch, I was able to pick up the last pair in my size, and also some tartan tights that I fell in love with in the window. Very Gossip Girl.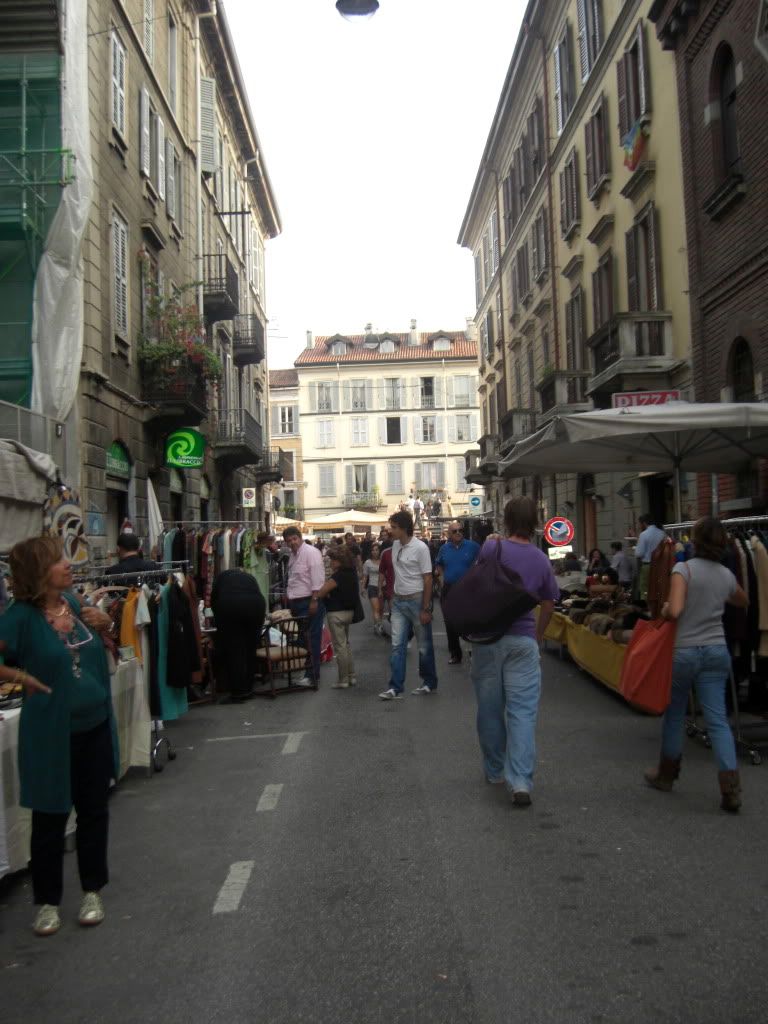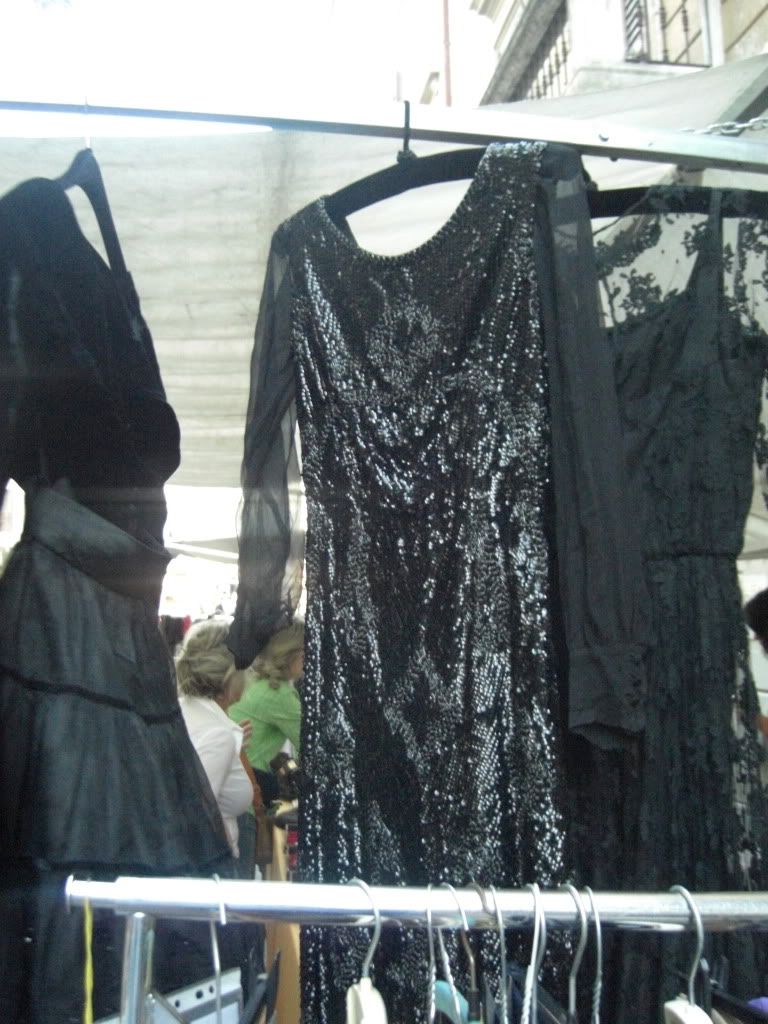 After a
Twitter
recommendation suggested going to the Navigli district for vintage, we decided to make a Sunday afternoon trip to the area on my last day. Feeling slightly worse for wear, we staggered onto the Metro not quite knowing where to go once we got off, but luckily our instinct led us to a busy street filled with stalls. Upon closer inspection there were some amazing finds; rails of Burberry trenches, fur coats my mother would adore, cashmere knits and embellished eveningwear suitable for any festive party.
Vintage clothes shopping is slightly frustrating for me, as the bits I like are either too expensive or don't fit (damn the €40 Moschino skirt not fitting over my pasta bloated waist), but luckily I had a bit more success with the bags. Amongst the stalls of vintage Chanel and recent Balenciaga, were some reasonably priced leather bags. I swept up this chocolate brown number, a lovely messenger style for my streamlined possesions and only €10.

So there you have it, my whistlestop trip to Milan in a carefully edited photo explosion, and I'm still insanely jealous of my friend for getting to explore such a wonderful city and different way of life. Jealousy aside, It has got me excited for my placement in

New York

and (88 days until I go, the clock is ticking) and has hit home that I really need to start organising things. Expect lots of New York anticipation posts, and I'll be happy to have any suggestions you can give me as I want to visit EVERYWHERE.

Now back to being blog obsessed; I've bought a domain name to lose the 'it' (www.iwantyoutoknow.co.uk) and will be switching it over as soon as I work out how, so be ready to update your links and subscriptions in the next week or so.

Follow on bloglovin...

Style : I'm back from my flying visit to Milan! It was very much needed after the madness of fashion week, and it was great to see my friend from Uni again (we're all so spread out at the moment). I'd already visited Florence earlier this year, so I knew vaguely what to expect (total confusion at the Italian language, small pasta starters and annoying exchange rates) but in reality, the experience more than lived up to my expectations. For starters there was a fashion show the night I landed in the Piazza Duomo for the streetwear brand