Now I've been trying to put off this post, wishing and hoping for some kind of resolution, but is it time to think the unthinkable?
Can Luella really be saved?
I bloody hope so, as that SS10 collection needs to be made and I need to figure out a way to get into future shows and become the house muse.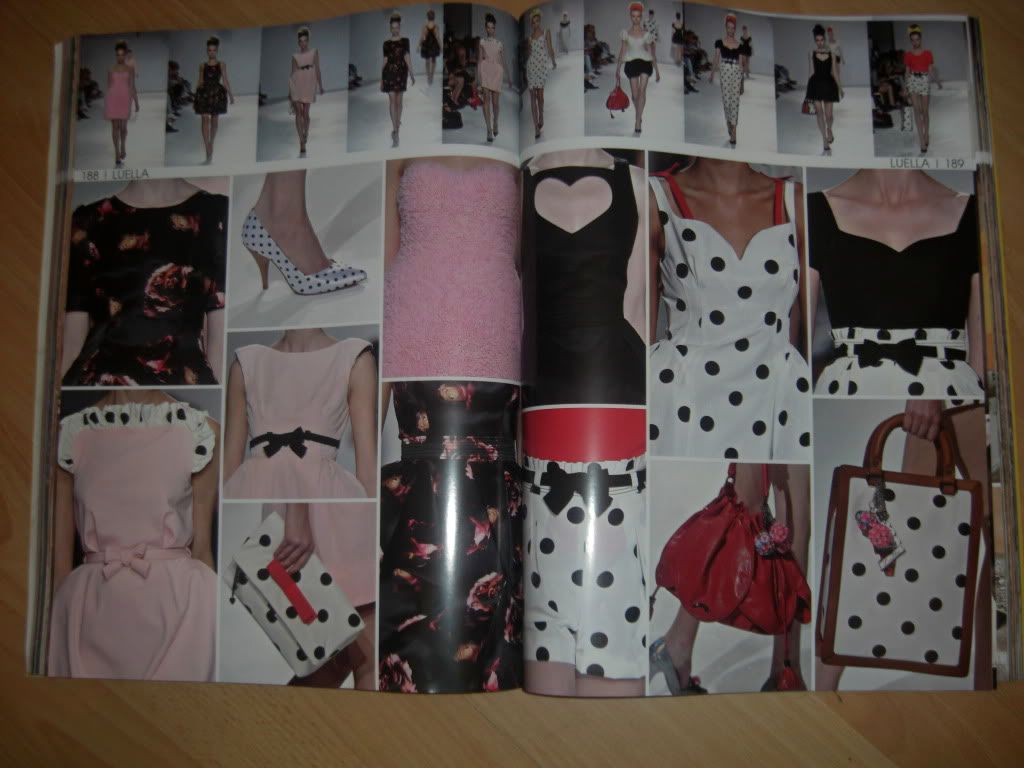 Image taken from Show Details SS10. You might know that I'm partial to a 50s style prom dress and this collection has them in abundance. It's not quite as subversive as some of the previous collections, but I still love much of it, it's very 'to the point.'
Now in fashion terms, I guess Luella wouldn't be classed as 'edgy' or technically ground-breaking and some of the fashion elite might prefer something a little less 'cute'. However I prefer to interpret from her collections a sense of irreverence and fun, taking her inspiration from the snootier elements of British culture and mixing them with music, superheroes and witches, making them accessible for all. When I say accessible, I don't mean that I'm out buying bits in Harvey Nicks every weekend, but in theory I could save up for one of her pieces and still be in my twenties by the time I was able to purchase it. Failing this, I could resort to a £79 t-shirt or £2 sticker depending on the state of my finances, still buying into the Luella aesthetic. This brand creates multi-faceted collections, drawing on a rich source of inspiration, for those who want to have a bit of fun with what they wear, referencing the past and playing with the present.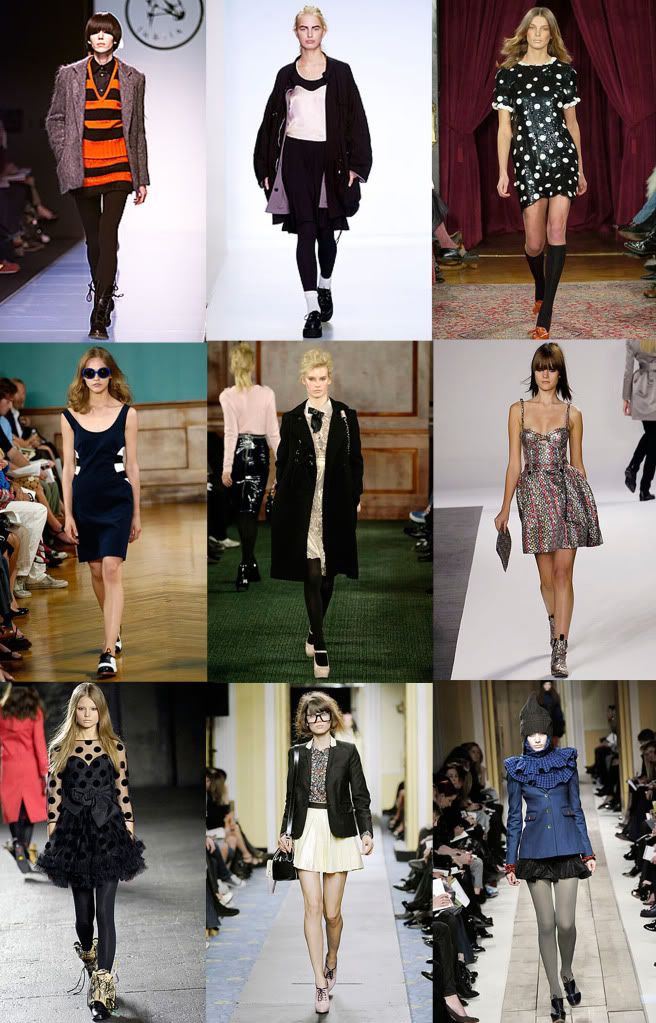 Row by row, left to right: AW 2001, AW 2003, AW 2005, SS 2006, AW 2006, SS 2007, AW 2007, SS 2008, AW 2008
.
All images by Style.com
You can see from her past collections certain elements of her aesthetic starting to form, such as the quirks in styling (loved the AW 2003 creepers) and strong 80s influence. The early collections appear quite different to what she does now, less cute and more grunge but I'm pretty sure some of the looks aren't too far from what's on street style websites today. You might think that all the quirkiness would make it date easily but I see things differently, and would be happy to update the body-con dress of SS06 with a mesh shirt and crazy two-tone tights. Many of the looks consist of basic and trend-led pieces, which just need a bit of tweaking to make them more '2009', proving the versatility of the brand. I hope there's somehow more to come.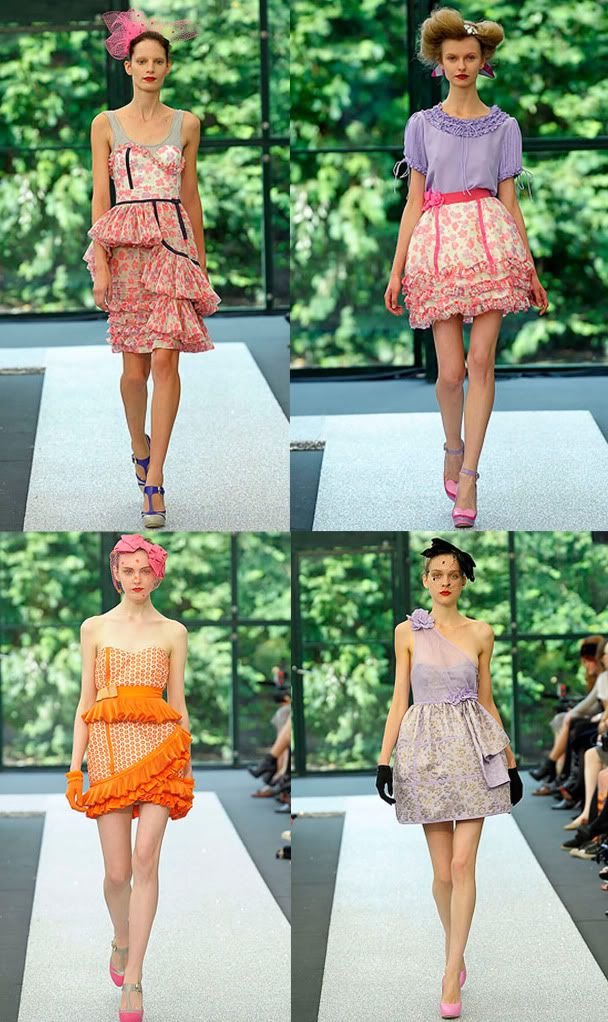 My favourite recent collection has to be Spring Summer 2009 as the concept of 'garden party gone wild' was executed perfectly with acidic orange hues and crazy amounts of pearls and brooches. There's some cheeky rebellion in the form of vests under dresses and short hemlines to contrast with the 'prim and proper' idea of such an institution. The collection suits me as it is youthful but demure, as I'm partial to covering up with cardigans and jewellery yet still wearing a short full skirt with a nice pair of heels. My aim is to eventually get something similar to the pictures above in the outlet, as I'd love one of these creations as my graduation dress.

When we had a university project to design a collection for a brand, well, you know who I chose. My inspiration was British sporting culture and country activities with the 'wrong' twist that she likes to include. The colours were inspired by racing jockey sweaters and I tried to convey a strong equestrian influence with rossettes and buckles everywhere, meaning that you could in theory jump straight on a horse after your wild night out. I had a really fun day of research in the Barbour section of Harrods (sketching like a crazy person) and later ended up at the Brook Street boutique where the assistants were extremely handy in telling me the design features she often uses, such as hidden bows, frills and support built into dresses. They even gave me a carrier bag, which was pretty much the highlight of the day.
Clockwise: much loved carrier bag; h&m ditsy floral dress; peacocks ditsy skirt; Bread 'n Butter Geek t-shirt bought in Hong Kong; Topshop Batman print t-shirt; Luella Margo bag (which I speak about as if it were a real person, ie 'Luella doesn't touch the floor.')
Here's some of the influence Luella has had on my wardrobe. The main item is my Margo bag,
bought at the Bicester outlet
(and also a Geek badge) but most of my Luella inspired bits are either high-street or vintage. As much as I'd like to pretend that I started the trend, I guess I started to wear more floral prints as they started to filter down from her SS08 collection and have since gone a bit overboard and gravitating towards them as my print of choice. What influence has Luella had on your wardrobe?
I sincerely hope that a backer can be found in the near future, but if not, I'm sure Luella Bartley will bounce back in some shape or form. As painful as it sounds, many labels can be revived decades after their first outing (think Halston and Diane Von Furstenburg) and I'd welcome seeing how the brand might adapt to this ever-changing world in a few years time (maybe I might be able to afford more of it by then). And so the waiting begins...


Love some Luella linkage:

British Style Genius on LuellaCollections at Style.com

How Luella Bartley fell from planet fashion

Follow on bloglovin...

Style :